Health and safety is crucial for us so this Monday we enjoyed a day of health and safety training in our Sherburn in Elmet office.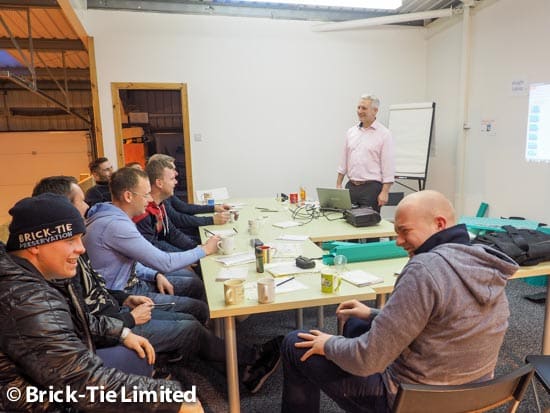 Our Managing Director Bryan Hindle wrote and presented a few 'tool box talks' on issues which are essential for keeping our technicians safe at work. Our work, replacing wall ties, installing Helifix ties and Helibeams can be dangerous, especially if work were to be done carelessly. Structural repairs to buildings is hazardous for sure.
Over the past few years we've concentrated on improving our attention to health and safety issues; gaining CHAS recognition and obtaining direct health and safety qualifications for staff. Bryan has lead from the front on this, obtaining his Nebosh Construction and general certificates in occupational health and safety. This enables him to tailor his health and safety training to better suit the work Brick-Tie does.
He was assisted on the day by technicians' health and safety representative Craig Tarbotton.  The presentations included:
Health and Safety – responsibilities of employees and employers
Working at height
Safe erection and use of mobile access towers
Safe use of Tube and Fit scaffolding
Noise at work – how to avoid work related hearing damage
Hand Arm Vibration – caused – recognising harm and prevention of injury
Eye injuries – how they happen and prevention
Protecting skin from harmful chemicals, materials and the sun
Bryan wrote the presentations, however Craig also helped in the presentation as did one of our apprentices; Dillon Thomas.
In addition, during the day, technician Ryan Shann had his mask face fit test renewed by our very own qualified face fit tester Sian Caley.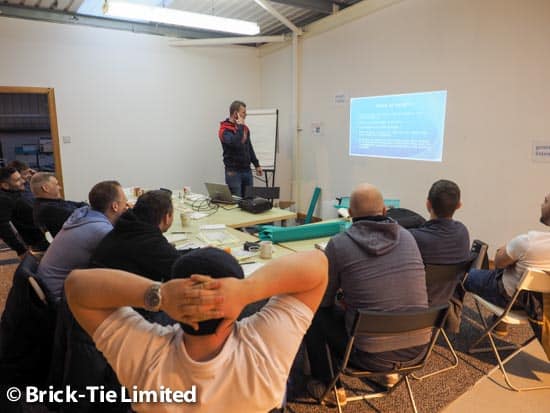 It was a good day with lots of laughs, despite the serious nature of the issues discussed. Everyone listened carefully and there were lots of good ideas and feedback on how we can keep each other, our clients and other contractors safe on Brick-Tie sites – domestic and commercial.
The usual suspects were in attendance…..