Harrogate's historic Turkish baths receive Cintec ties by Brick-Tie
Harrogate's famous and historically significant baths are being restored and improved. And, Brick-Tie's cintec ties installation team played a crucial part in the project. The installation we delivered is unseen, yet it will be working 24/7 in an essential structural role.
Four 2m long stainless steel Cintec ties are supporting the entire external canopy over the front entrance to the baths. Each of the Cintec ties was installed in diamond core drilled holes extending 2m into the building. The canopy is then fixed directly to these by bespoke eyelets, which allow extension of the support diagonally down to the stunning new glass canopy.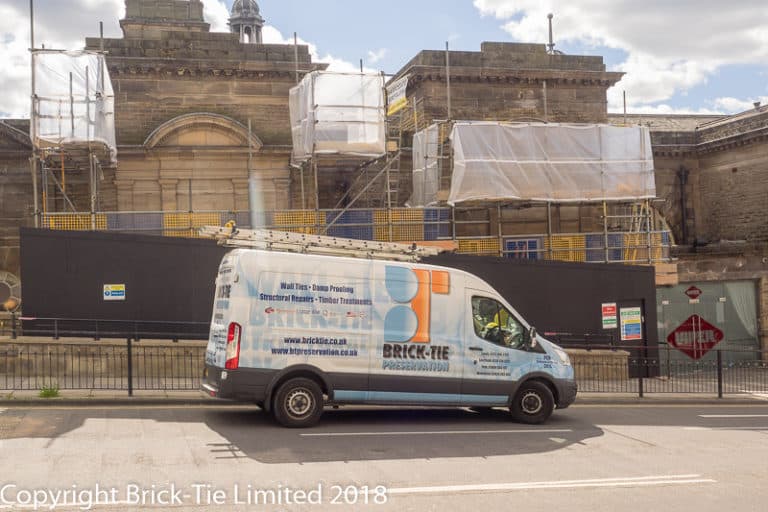 Our client's structural engineers required 16mm diameter stainless steel ties, over 2000mm long. The Cintec ties need to be able to withstand the weight of the canopy itself and the huge dynamic  wind loadings.    Brick-Tie technicians, Craig and Garry safely pressure grouted each tie into 50mm diameter holes at 3.5Bar.  However, bearing stresses, which happen at the anchor/substrate interface are reduced by  large hole circumferences; a major benefit when working in softer masonry bonded in a lime matrix. Older historic fabric is not harmed by either; heavy handed installation work or,  over-rigid point loads, associated with smaller diameter resin-bonded systems. Fortunately the combination of gentle diamond core drilling and Cintec's sock anchor technology ticks all of the right boxes where this is concerned.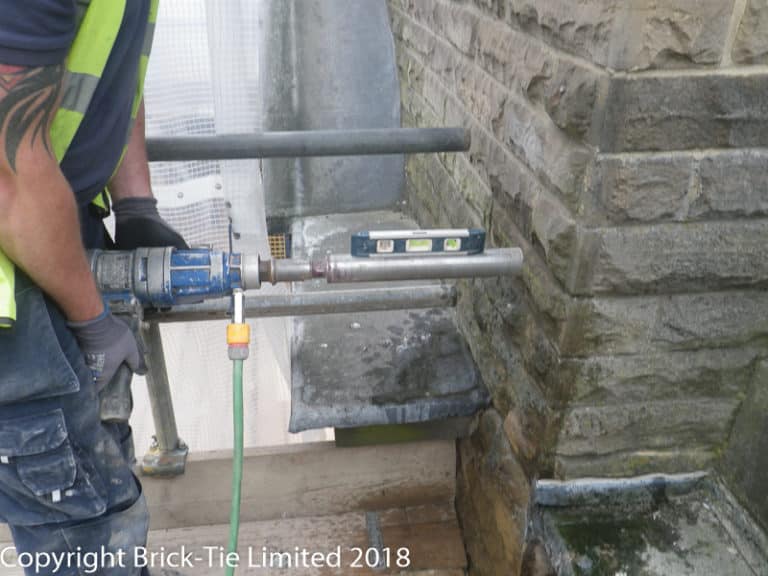 Cintec ties tested to 1.5 Tonnes!
After a suitable pause for curing, the anchors were tested in tension. These tests are a standard part of Brick-Tie's quality control system. One of Brick-Tie's four independently calibrated tension rigs was employed, along with a tension 'bridge' unit. The bridge unit is designed to exclude reactive compression loads, which could otherwise confound tension test results.
15Kn tension was achieved in each of the tests; maintained for several minutes. No 'decay' was encountered, which demonstrated excellent performance. Moreover, in the following months the Cintec 'Prestec' grout, surrounding the Cintec ties will continue to harden and gain greater strength. The actual 'in service' loads these ties can absorb are considerably higher, even than the 1.5 tonnes pulled by Craig and Garry on site.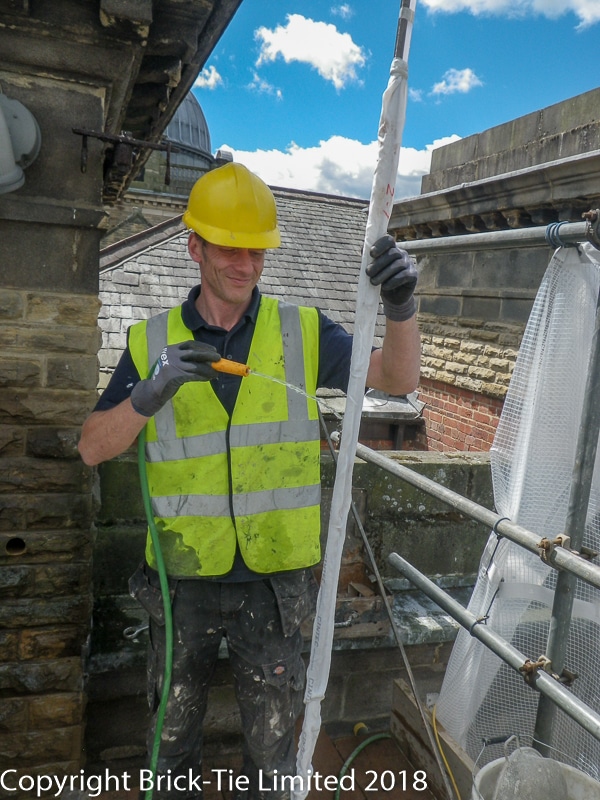 Another Happy Principal Contractor
The principal contractor was delighted by our prompt attendance, safe working practice and ability to deliver drilling precision. Naturally the job was completed on time and in budget. James Wood, director at principle contractor Whitaker and Leach said,  (in a conversation with our MD) "Thanks Bryan, it was a pleasure working with you boys, well done" That will do us!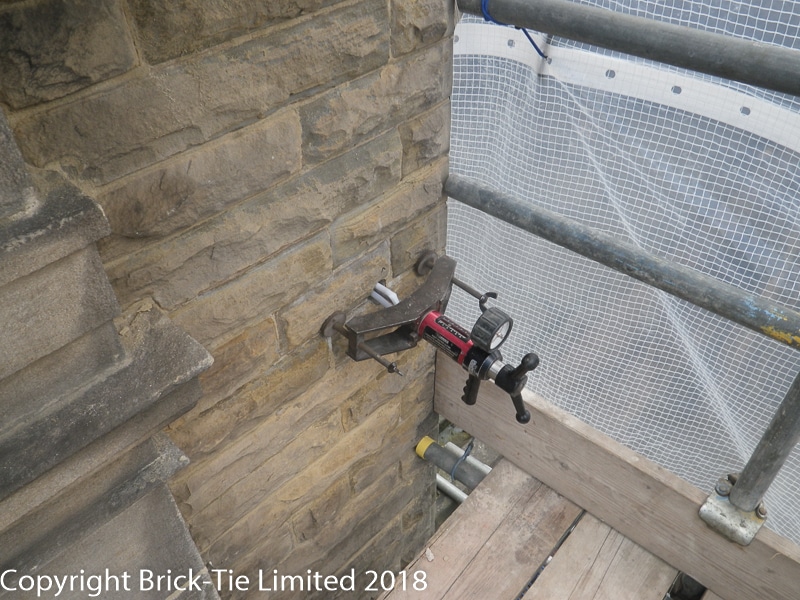 For expert attention to detail in structural repairs, Cintec ties or any specialist tie work you can rely on Brick-Tie's 35 years of experience.  We are multiple winners of the Property Care Association award in staff training and development as well as winners of the coveted PCA Contractor of the year award. This means you can be assured that when the Brick-Tie team turn up on your treasured project, everything is done to meet the building's needs; regardless of age, size, value or historic significance.
Call our free customer service line now on 0800 591541 or visit our contact page for a direct link.
Want to savor the delights of Harrogate Turkish baths and admire the work? Here's a link to the web site with opening times, prices and information – Harrogate Turkish Baths.