Cintec Wall Ties for All Saints Church Sherburn in Elmet
It's not often Brick-Tie are called on to install only 2 wall ties. However, these were no ordinary wall ties, they are Cintec Structural Anchors and, the property, which required them, is rather special.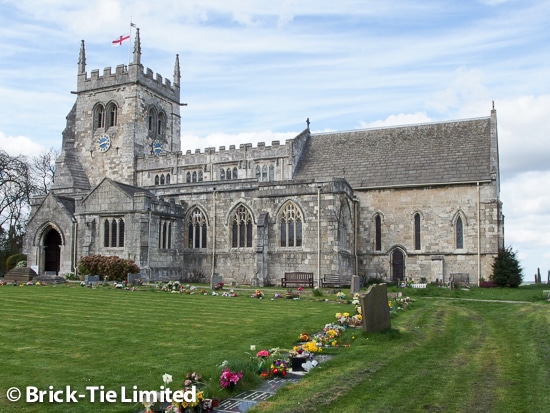 All Saints Church dates from around 1120, with Norman pillars within it ad is grade 1 listed. The imposing magnesian limestone ashlar bell tower, was added later with a ring of eight bells. There was an even earlier Anglo Saxon church on the site prior to its construction. So it is a priceless piece of history, as well as being a beautiful buildings and the hub of Christianity in the area.
Structural engineers – Capstone Consulting Engineers of Buxton, required a pair of Cintec structural anchors. These were grouted sock anchors, to be installed in the spiral staircase of the tower. Hundreds of years of erosion had caused some damage to the masonry. Bridgett Conservation (our client), of Doncaster, were called in to replace some of these items. Their master stonemasons produced stunning work, which is a pleasure to behold (see below).
Why the Cintec anchor system and why Brick-Tie?
The Cintec grouted anchors system is perfect for installation in rubble filled and weak masonry. However, the engineers had a special request this time "The Cintec anchors must be drilled through the flank of the wall down at an angle to within 75mm of the internal face and soffit of the stairs, which runs at a curved angle in relation to the outside".
This meant careful setting out for a three dimensional drilling session. It also called for great precision from the chosen contractor, who had to be an approved Cintec Anchor installer; insured for £5,000,000 public liability and have experience of working on historic fabric and ecclesiastical buildings.
Brick-Tie can tick all of the above requirements and we just happen to be based in Sherburn in Elmet, so we were asked to take a look.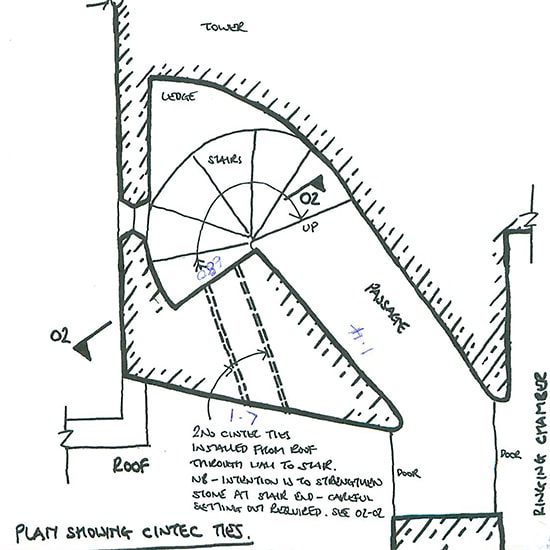 On receiving the hand drawn sketches and the engineer's instructions, our MD Bryan Hindle visited site. From the roof Bryan was able to look out over the vale of York and also south to West Yorkshire, the Church is built on a hill and easily dominates the local landscape, "This is a tough one and tricky too…we'll do it".
Instructions were received and our team used wet diamond core drilling to achieve vibration free pilot holes – at exactly the correct position, angle and depth – perfect.
Custom length Cintec structural anchors measuring 15x15mm square hollow stainless steel section, in 32mm diameter holes were grouted in position using Cintec's excellent Presstec polymer modified grout. The masons have now pointed the ties in, using natural lime mortar so there is no sign of the work and the structure is preserved.
The Cintec ties are now doing a great job, supporting the historic masonry into the future; quietly, reliably and best of all – discreetly.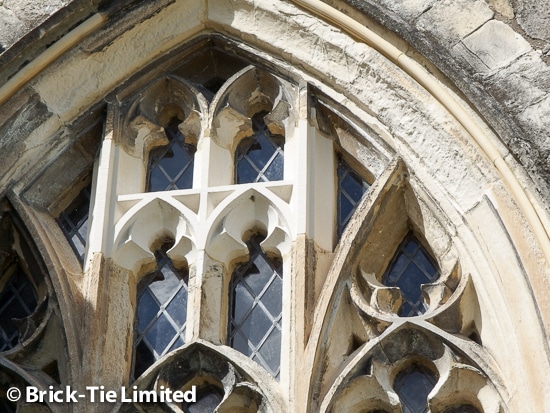 The above adds a further chapter to the Brick-Tie story, with many Churches, other places of worship and listed or historic buildings receiving our careful and skilled wall tie and structural repair service.
For further information on specialist structural repairs to historic or post modern masonry, including the Cintec anchor system, call our customer service line 0800 591 541 or email us via the contact form.