PCAQT, Fully Qualified Technician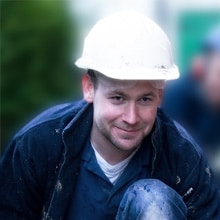 Ryan arrived at Brick-Tie in 2001. A basic NVQ level 2 in Construction operations was Ryan's entry point into construction work. In the next 20 years he's achieved so much, including NVQ2 in wall tie replacement NVQ 2 damp and timber technician.
With fellow technician Craig, he has completed training on our latest heavy duty diamond drilling rig, completing a substantial job with it straight away; over 140 52mm diameter holes, 1600mm deep for Cintec anchors, on a Yorkshire Victorian prison.
Ryan's trowel skills are a joy and he loves his work. Attention to detail is a given with Ryan; he really wants the job to be just what the client ordered. He is IPAF qualified to operate mobile elevated work platforms safely, which is a great benefit when clients have needs for wall tie replacement or structural repairs in hard-to-get-to places.
He re-sat the PCA technicians course in 2014, passing with flying coloiures and is also PASMA qualified for safe erection and use of tower scaffolds, which is crucial for our smaller sites, where aluminium towers are often used.
He and wife Rita have three  gorgeous daughters, and has their names proudly tattooed on his arm, Beckham style.
We hear he's been seen down the gym too, usually begging for help ? The wimp!
Joking apart – Ryan has also recently being added to the national professional biocide users register. This is only achieved after a training course and an exam. If you are looking for a safe and secure woodworm or dry/wet rot treatment; Ryan's your man.