Yorkshire Industrial Heritage buildings conserved by Helifix and Brick-Tie
Our skilled Helifix approved masonry reinforcement installation team were busy these past few weeks in South Leeds, West Yorkshire. This post underlines the type of work we carry out on historic buildings, using techniques which include Helifix remedial repair systems.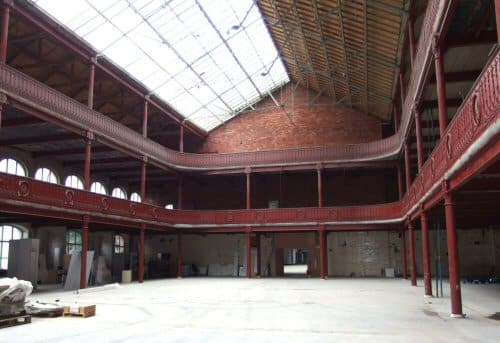 This project was the historic Alf Cooke Print halls on Hunslet road, now being refurbished and developed by Sewell Group for Leeds City College. The building forms a valuable part of the city's long tradition of printing and is a vital relic of our industrial heritage.
The 19th century Alf Cooke Print Halls are grade 2 listed buildings. They are to become a crucial part of the Leeds City College campus, used for IT and Technology studies.
However, these buildings, grand as they are, have had a hard life and work was needed. There were some signs of structural movement and damage caused by the vibrations of old print machines years ago. Some of the cracks were the full width of the walls, with daylight showing through in some places. Our clients were Sewell Group, and we worked closely with their project manager Mark Dodgson, to ensure the work ran smoothly.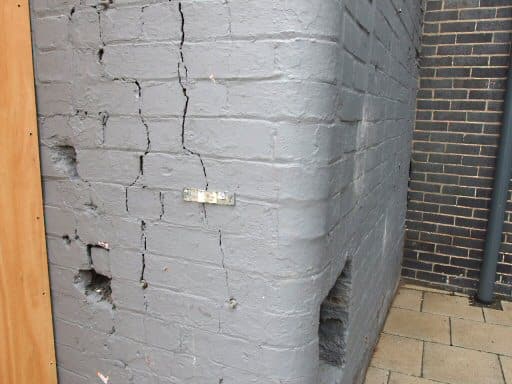 Why Helifix remedial systems?
Helifix helibars were used to restore lost continuity and strengthen the walls, where cracks had occurred. Care was needed to avoid damaging the original fabric and to ensure the work blended into the building. The Helifix and Brick-Tie philosophy of minimal intervention, with stress free solutions formed the basis of our repair specification.
6mm stainless steel Helifix Helibars were used, bonded in Helibond cementititious grout. In addition 1000mm long 8mm diameter Helifix CemTies were used to stitch a corner of the building, where lack of bonding and previous impact damage had weakened the structure. These products, when installed correctly are strong, yet flexible enough to avoid causing damage to the building (An explanation of the way this works is written in a post on what needs to be considered when specifying structural repairs to old buildings).
This was a very busy site, so it important to plan carefully. Health and safety are a priority for Sewell's and Brick-Tie too, so a detailed risk assessment was needed to control all site access and the work itself. Our safety method statement met Mark's requirements and we were given the go-ahead to proceed with the work.
Over the following week over 100m of helibars and CemTies were installed by our wall tie technicians; quickly, safely and are now invisible to the eye.
Our clients have high expectations when dealing with heritage repairs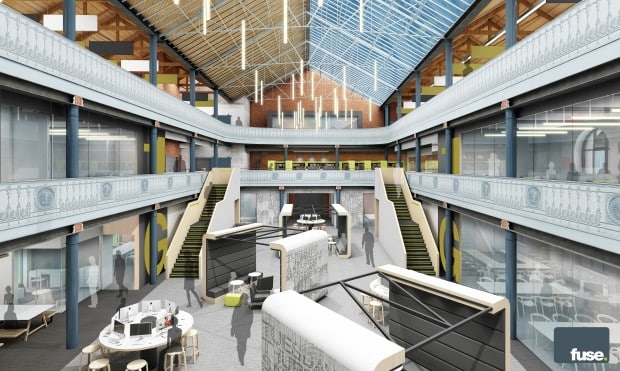 Sewell's project manager Mark Dodgson, takes up the story:
"I've been with the company for over seven years and have managed high profile jobs like this, ranging from 3 to 15 million pounds. This job was a challenge, in that the building is grade 2 listed structure and whilst the main goal was to provide Leeds College with a suitable space, we needed to maintain the overall beauty of the building too".
"I had over 20 different specialist sub-contractors working on the team, including Brick-Tie"
"On a project like this, experience and expertise, directly related to conservation work is crucial" says Mark "Having met Brick-Tie's MD Bryan Hindle on site, I was struck by his enthusiasm for the building. It was apparent that with his leadership, Brick-Tie was the perfect contractor to use, as they had the detailed knowledge and were genuinely excited, to engage with our vision for the project".
And what about the site work, we asked? "Well, the guys from Brick-Tie delivered all that was asked of them, with a keen eye for detail and they were very health and safety conscious too".
The local connection between Brick-Tie and Leeds, West Yorkshire
Our whole team are proud and delighted to have been part of the exciting re-birth of one of Leeds's landmark buildings. In fact our Helifix installers Craig Tarbotton and Peter Linsell are local boys, schooled and brought up in south Leeds, a stone's throw from the site.
Sewell's have done Leeds City College proud and the new facilities are truly world class.
Our thanks go to Mark Dodgson and his team for looking after us during the work and making the whole project a pleasure to work on. We asked Mark what lessons he had taken from the project and whether he'd consider engaging Brick-Tie on similar projects in the future "Without question I would" he said "This type of work is Brick-Tie's forte and specialism".
That will do for us Mark – Thank you.
If you need Helifix masonry repairs or related structural work on listed buildings and older traditional structures, why not contact our team via our free customer support line 0800 591541
You can also call any of our local numbers at the top of the page including Leeds of course
You can email via our structural repair contact page.