Thorite Training Academy – Helping Brick-Tie work safer and better.
When Brick-Tie are installing pressure grouted anchors to repair structures, we use compressed air to force the grout into the ties. Our technicians enjoy the work, and with years of experience, they are used to using the equipment. Compressed materials store vast amounts of energy, which must be safely controlled. All in a day's work, you could say. But familiarity can breed complacency, it's human nature. Sudden, unexpected release of compressed air or grout is almost explosive. As a result, lack of attention when using high pressure fluids could spell disaster.
Therefore, we take time to ensure our employees are up to date on safe working practices and safe use of equipment. So last week, our technicians attended a full day of training with our compressor supplier Thorite.
Bespoke course for Brick-Tie
Having spoken to our technical Director, Thorite's training manager offered a bespoke course to suite the equipment we use and the operational context it's used in. This flexible approach really impressed us. They have their own training academy at head office in Bradford. A bespoke teaching and instruction space, dedicated to effective learning.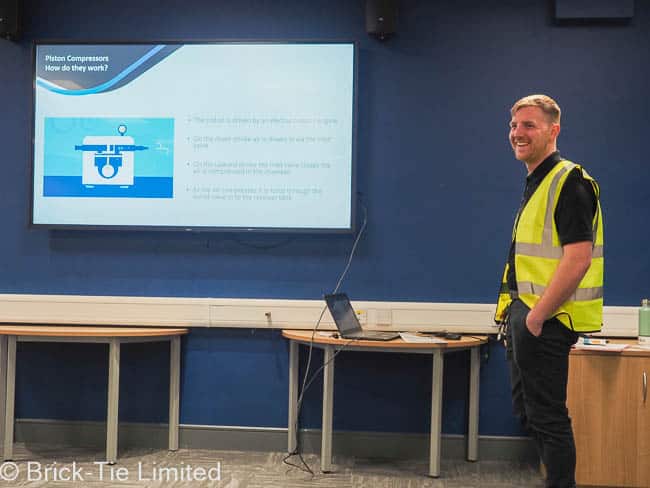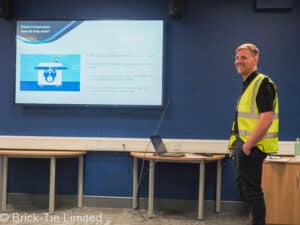 John Moulson has worked for Thorite for 16 years, joining them as an engineering apprentice and working his way up the business. As a result, he knows their products inside-out. What better person to instruct our team? He presented a detailed and very accessible course in an enthusiastic and engaging way.
Our technicians were able to relate to the course details and asked lots of questions, which John was able to answer for them. As it happens, we had completed a project very near to Thorite's office only weeks before the course, using Thorite equipment at a pressure of 10bar.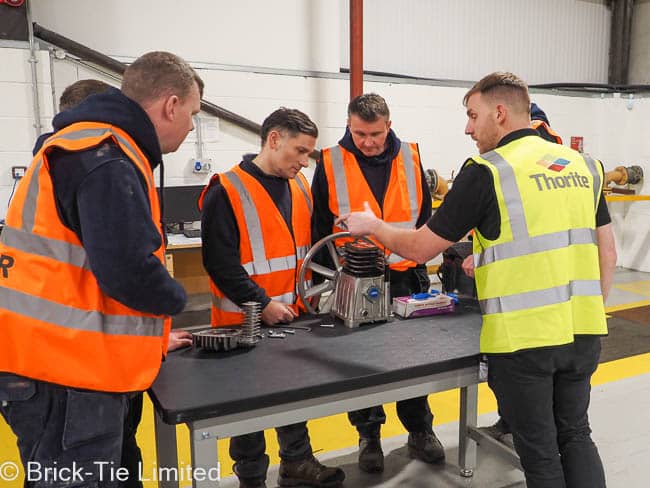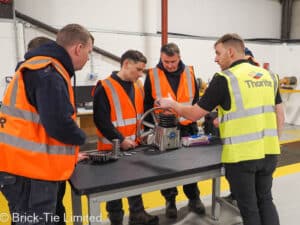 Life Church Bradford's retaining wall repair required 19 Helifix SockFix anchors. These were grouted in a free-flowing grout. Everything went well, but even so, our technicians learned additional important lessons a week or so later via John. This demonstrates that long experience is no substitute for life-long learning. Both are needed if staff are to keep abreast of new technology, safe practices, and essential recent developments.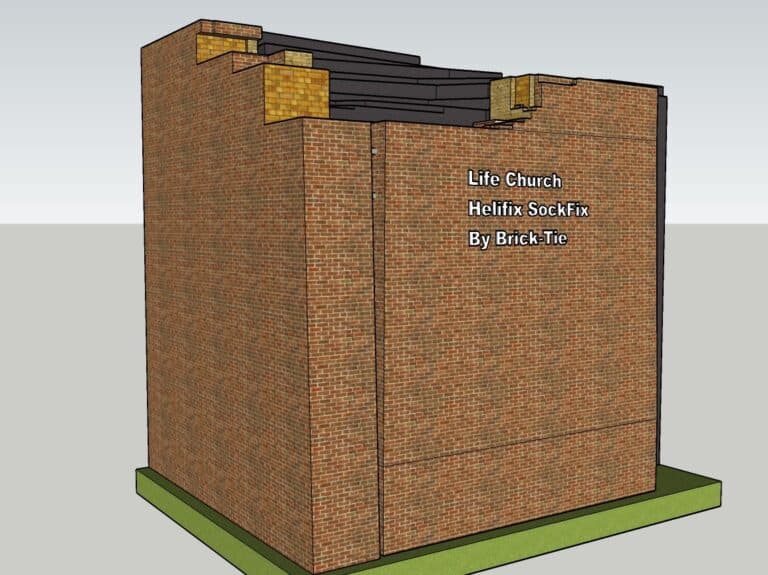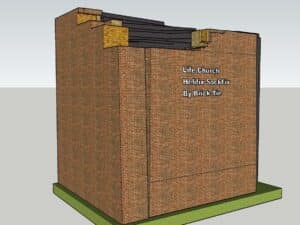 Our technical Director, Bryan Hindle, was delighted with the course, "The lads found the day really useful and took away new ideas to help them stay safe and get better performance from their kit" he said. "My thanks go to John and Thorite's team, who looked after us very well, cementing our good relationship going forward – thank you!"
Masonry repairs done with care
Structural engineers and surveyors recommend Brick-Tie for crucial specialist masonry repairs. Often clients have no real knowledge or experience of these techniques, relying on their professional advisors for guidance. However, it's not just about technical skill (though that's important), it's about good management and safety too. Brick-Tie strive to make sure that our working practices match our technical know-how. All our team, work with care and respect, no matter what the size of project or nature of the client. Residential, domestic, or commercial – the service remains consistently good.
For further help or advice on wall ties or other structural repairs, call us or use our contact page.