This week Brick-Tie started work at City Square House, Leeds.
Working for our client McAleer & Rushe,  two of our remedial teams started work this week. City Square House is without question the finest new build commercial development in Leeds. The £47m work of art, designed by Todd Architects, will stand on the prime spot right outside Leeds City train station and overlooking city square.
You may ask yourself what a brand new building would need Yorkshire's expert structuralist repair specialists for? No worries, our work is not on the building itself, which is not even out of the ground yet. However, we are often called in to enable new build projects to proceed.  This is especially the case in crowded city streets like Leeds. There are two large Victorian buildings on Wellington street, both of which need some Brick-Tie TLC to protect them against vibration during the projects foundation work.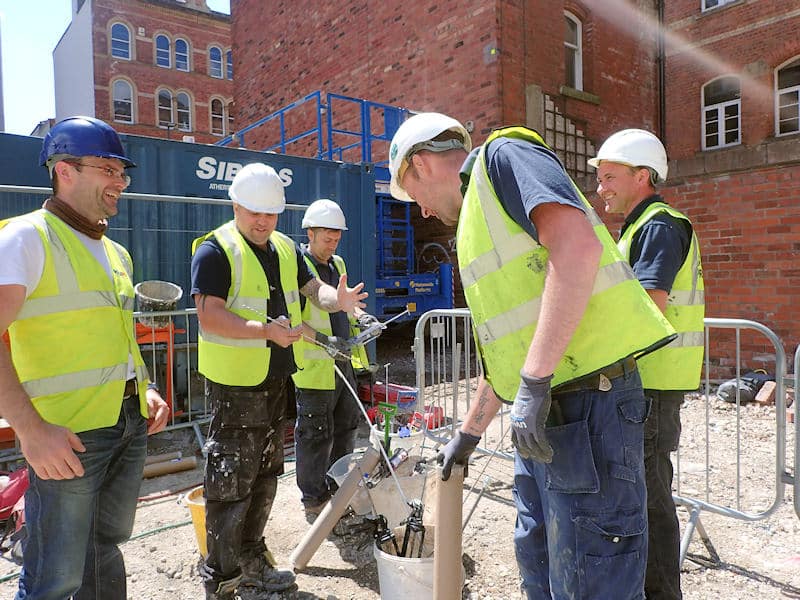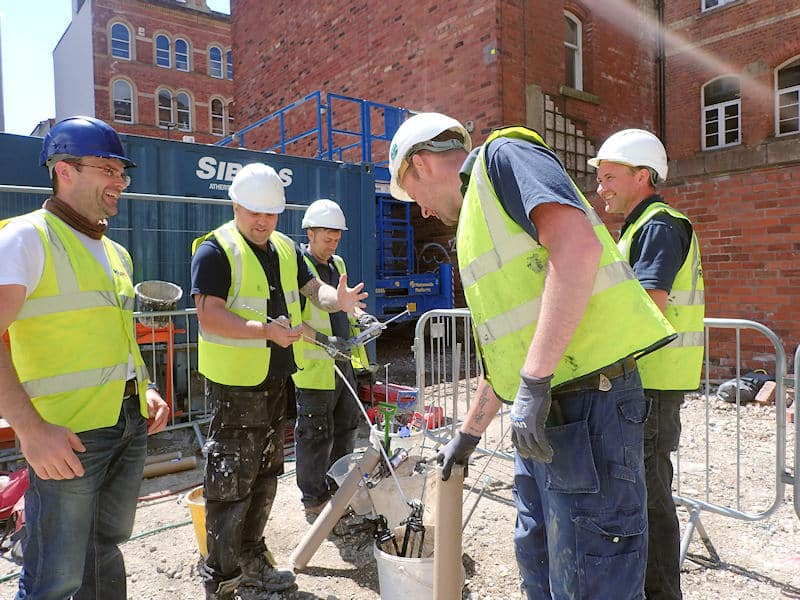 A whole team effort
Working with our clients structural engineers and the adjacent owners structural engineers too, we agreed the structural requirements. Then Brick-Tie and Helifix got to work to design a suitable solution.  The result is a Helifix system of stainless steel ties, installed by Brick-Tie's award winning team. The specification includes Helifix CemTies and the remarkable Helifix SockFix grouted wall tie system. These anchors securely bond the grade 2 listed facade to the old gables, ensuring stability and safety.
Two of our most experienced technicians, Darren Roberts and Ryan Shann, are working from a mobile elevated work platform. They are helped by Peter Linsell and Gareth Clark. Together, they are installing several hundred Cemties this week. Next week we begin diamond drilling forty 1200mm deep holes for the SockFox anchor installation.
McAleer & Rushe project manager and site manager Connor McMahon and Alli Lindsay, kept a watchful eye on proceedings, ensuring a professional, smooth and above all safe working environment.
Our MD Bryan Hindle was in attendance, completing a site safety audit. He was also taking measurements to assess our employees personal vibration exposure during the drilling work. The health, well being and safety of everyone is at the core of what McAleer & Rushe do. They have our enthusiastic support.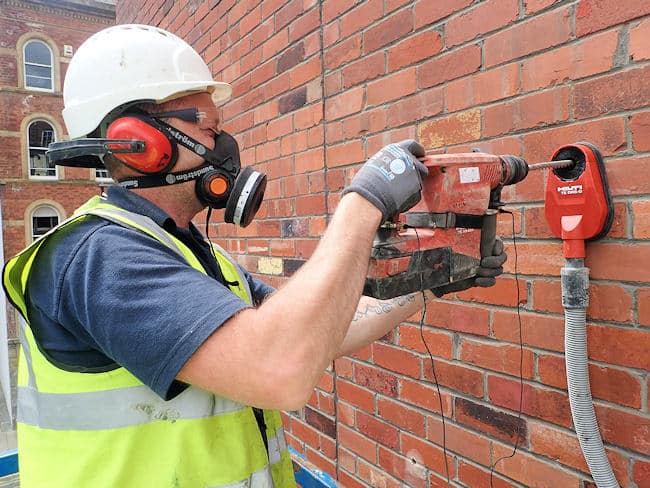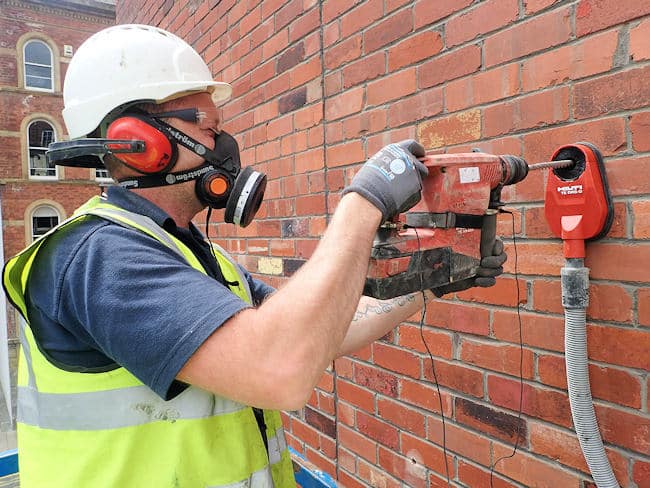 Opportunity and hope.
The above project dwarfs our little firm, with a value almost 47 times the size of our annual turnover. We feel proud and thankful, that sometimes, even the most prodigious projects, involving the UK's most professional firms, need a little help from us.
We should complete the installation by next week. But in the coming two years we will be avid watchers, reading about this project with great pride – we can't wait to see the finished item. Moreover, this is a sign that Leeds is thriving. Despite the pain and anxiety of the current pandemic, life does go on and there's hope for a brighter future for many. Thank you MRP.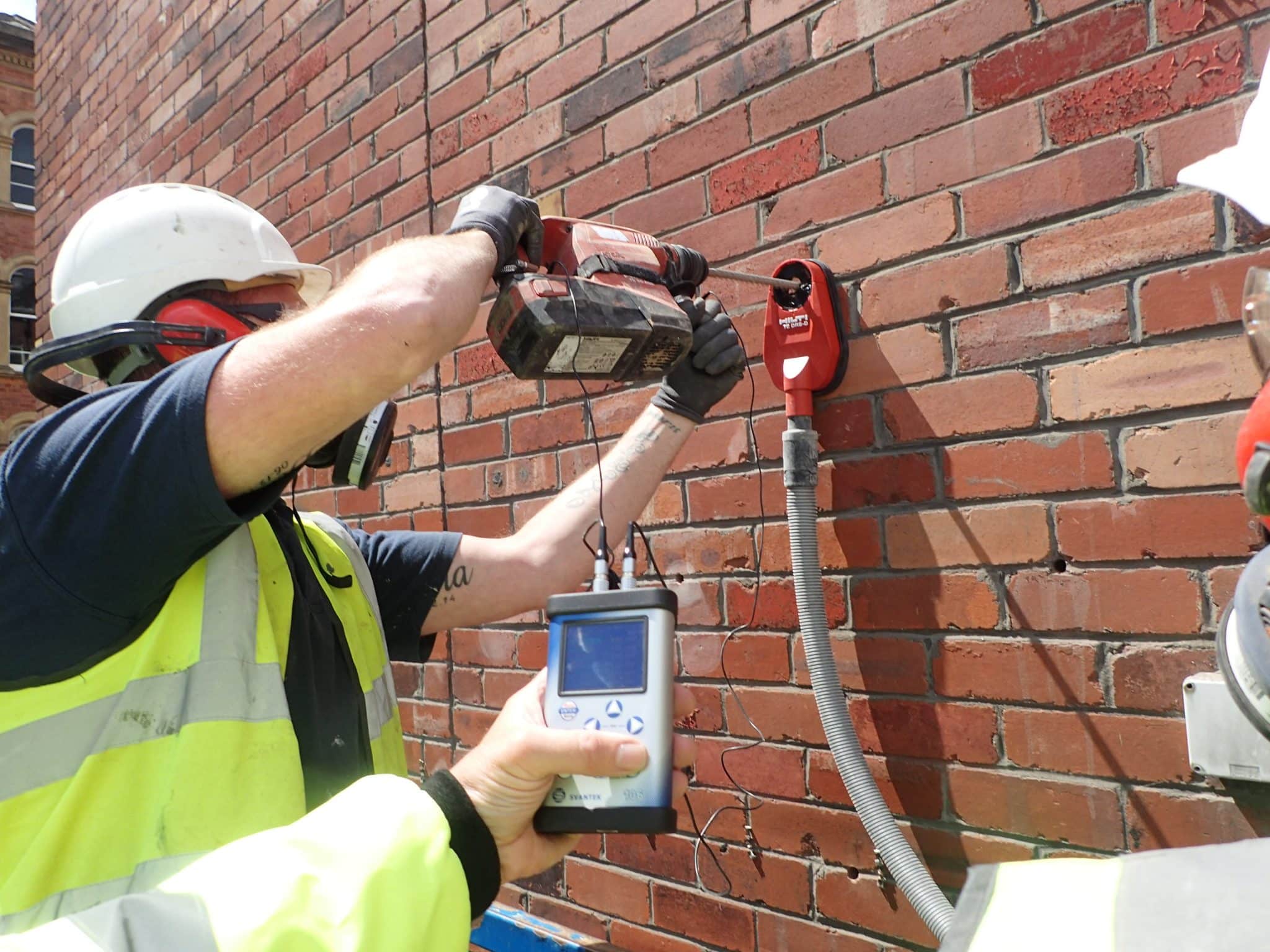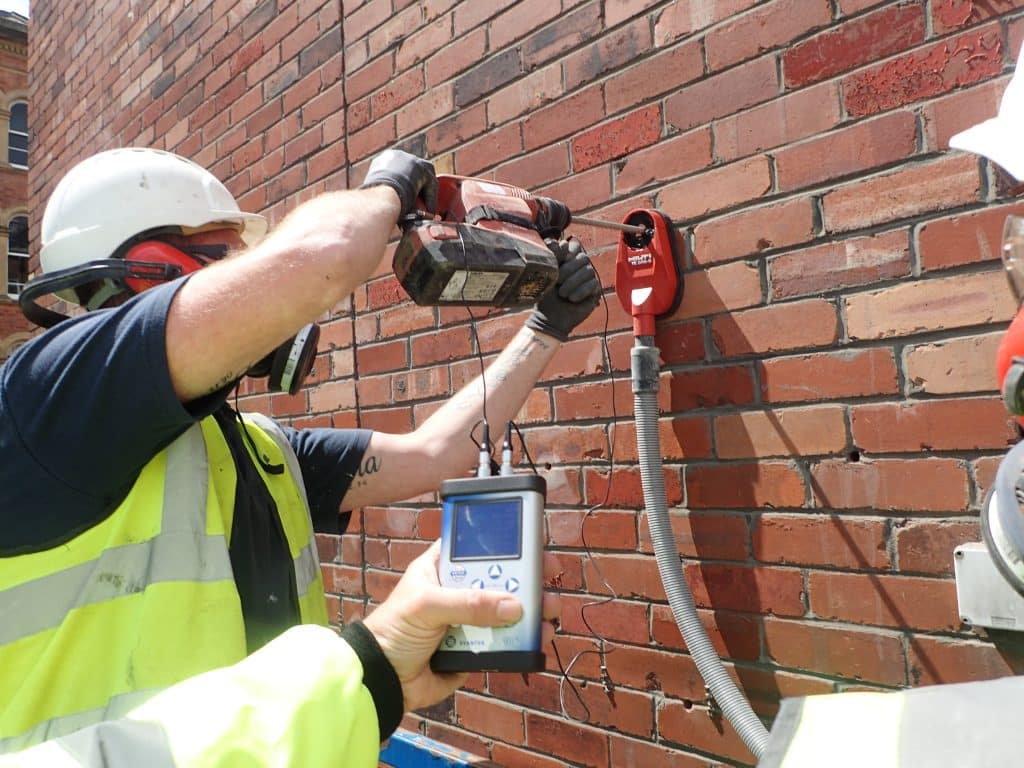 Why not have a look at the dedicated pages for the project? It gives great insight on the scheme. Here's a link to Leeds Council's own pages on the project.
This project is just one example of the very wide and diverse nature of our work and the clients we serve. The same care and attention we offer commercial clients of the stature of McAleer & Rushe is given to our domestic and residential clients too. Call our team for help or advice.