Our MD Bryan Hindle was in Leeds today with Building surveying students at Leeds Beckett University.
Leeds Building Surveying Students were in attendance for Bryan's session on wall tie corrosion and associated structural repairs. Our annual event for the students on the University's Building Surveying degree course is always well received. Brick-Tie's role is part of the Building departments effort to expose students to outside built environment professionals. Firms like Brick-Tie, with decades of work behind us, can help students gain valuable 'inside' knowledge. Knowledge, which they would otherwise never obtain, without years of experience in building surveying.
Training sessions like these are part of Brick-Tie's outreach to improve standards in the remedial wall tie field. The purpose is to help potential site supervisors and specifiers achieve real improvement on future projects. To do this Bryan used case studies from projects completed over many years .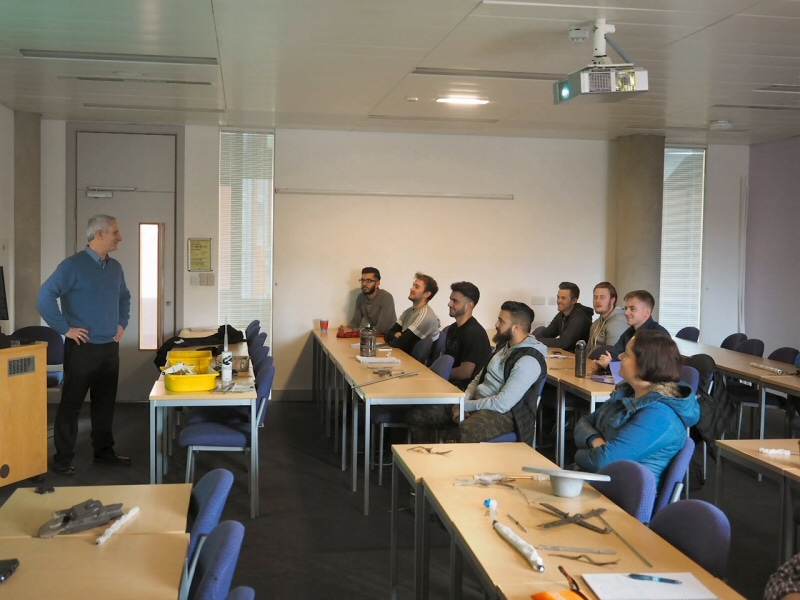 Not 'only' old houses.
These examples included shocking highlights of bad practice and woeful quality on construction sites. Cracks and bulging walls are the most common reason we are called in to help. Wall tie corrosion only effects houses constructed before 1985, however, remedial wall tie installation is often needed on quite new – even unfinished projects. Why is it necessary to install remedial wall ties in new houses, when they are included in the 'as-built' drawings?
Bryan illustrated these new-build defects. They included missing wall ties, wall ties installed in the wrong position and wall ties which are too short to adequately support walls.  The shocking effects of this were evident in images Bryan displayed, showing collapsed walls, cracked plaster and fractured masonry – all because simple things on sites are often left undone.
Building Surveying and Thermal Movement
Serious cracks can and do happen due to missed and badly engineered expansion joints in masonry. Students were shown examples of these defects, which ranged from blocked joints to the use of plasterboard and timber to fill them, when the correct flexible joint filler was not available.  Cracks due to thermal movement have particular characteristics. Bryan explained what to look out for. The small cyclical movements caused by thermal expansion and contraction can 'ratchet-up' to result in some quite serious and costly damage. Understanding the fundamental reasons for this process is crucial to successful building surveying. Bryan was keen to make sure that the students 'got-it'. A healthy and lively discussion took place before the subject moved on to Timber frame housing defects.
Wall Tie failure in Timber Frame Houses
Wall tie corrosion and lateral restraint problems are common in timber frame buildings so a session on this was required. A site video was used, which took the students through the methodology of wall tie surveying a 'spooner' type timber frame property. Video obtained in the cavity via a boroscope helped give the students some real insight into what happens in these cases. Rusting ties and poor wall tie embedment featured, as well as poor lateral restraint of the gable apex. This led to a further analysis of how wall tie installation is carried out on timber frame homes; what to look for and why careful additional tests are needed as the remedial wall tie work proceeds.
Ground Anchors for Earth Retaining Walls
Lateral restraint isn't just about house walls. Earth retaining walls in gardens and public spaces sometimes need help against lateral forces. These forces may start to move a retaining wall for reasons of poor design, poor construction work or changing conditions. It is often necessary to take down and re-build retaining walls which are on the move. However, an economical alternative may be installation of duckbill ground and soil anchors. These remarkable restraint systems are installed by Brick-Tie, through the retaining walls. The mass of ground behind is mobilised to provide lateral support. Samples of DuckBill anchors were handled by the students and Bryan explained what they can do and… what they can't.
After the talk Bryan asked a few questions and gave out some Brick-Tie thermal hats to those who got the answers right.
Bryan was impressed by the students "They were an enthusiastic lot and asked relevant questions of me, it's good to know the industry is well supported with new talent coming through from Beckett's" he said.
We are grateful to Leeds Beckett University for the chance to pass on skills and knowledge to their built environment students – thank you!
For further details or to book a survey call us on Leeds 0113 232 8433