Stress free Helifix repair for traditional home.
There is little that is more satisfying than buying an old house which is in disrepair, and restoring it to pristine condition. This was the goal of our Client's, Mr, and Mrs Roberts, when they bought Layton Ghyll, a 17th Century farmhouse in North Leeds. However, they soon found out that they needed a Helifix repair.
Layton Ghyll is an imposing house, which was enlarged in the 19th Century. Its stone walls are rubble filled and held together by natural lime mortar. Its foundations are shallow and at over 400 years old it was really beginning to show its age. Cracks appeared in several locations and some of the external walls were bulging.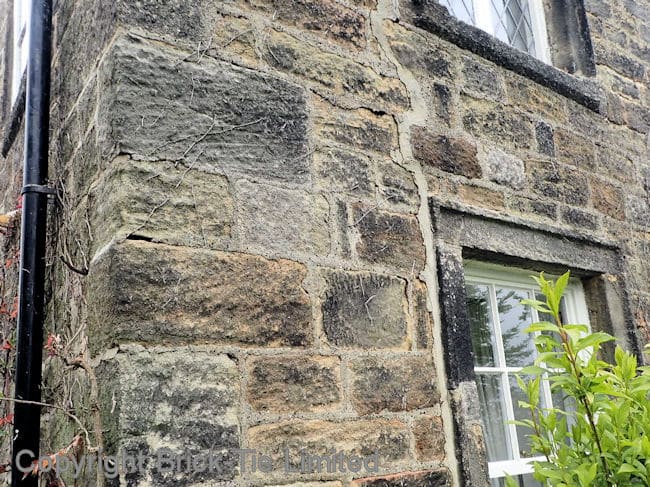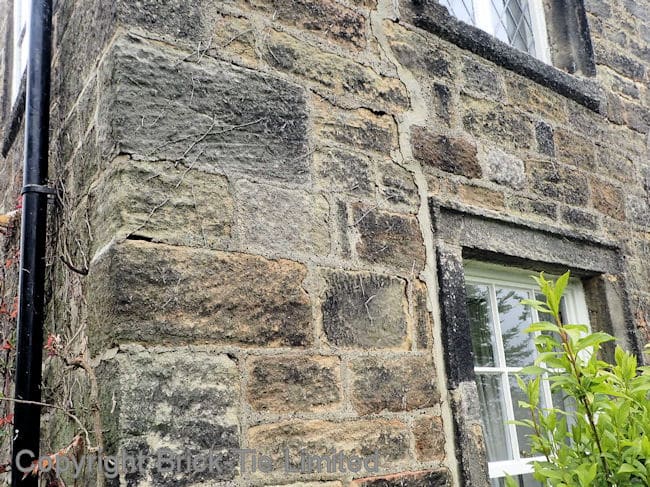 The new owners called in experienced structural engineer Craig Readhead of Alan Wood and partners, who completed a detailed survey and was able to make recommendations on the wall tie and structural repairs. Our clients had renovated a house in the past and had suffered an unfortunate experience, with poor service and woeful quality from a 'specialist' contractor they had used. Keen to avoid a repeat, Mr. Roberts completed his own careful  investigation, reading reviews and asking independent advisors before choosing Brick-Tie.  We were asked to prepare a detailed repair specification and offer a guaranteed solution.
Using Craig's initial report as a reference, our own Helifix approved engineer completed a further survey and designed a suitable repair strategy, using the Helifix range of wall ties, crack-stitches, and lateral restraints.
The chosen wall tie and masonry repair method.
Great care was needed with Layton Ghyll, because some of the walls were already weakened by years of wind buffeting and traffic vibration.  In common with many traditional houses, previous ill-thought-out building work compounded the problems. Stonework, bonded in lime mortar cannot be fixed using hard resins and cements. These methods just over-stress the masonry and can cause real damage in the long run.
Sympathetic materials and gentle application methods strengthen the walls for the long term.
Therefore, Helifix's SockFix range of wall ties, stitching ties and lateral restraint anchors were chosen. In addition, localised use of Helifix HeliBars were included.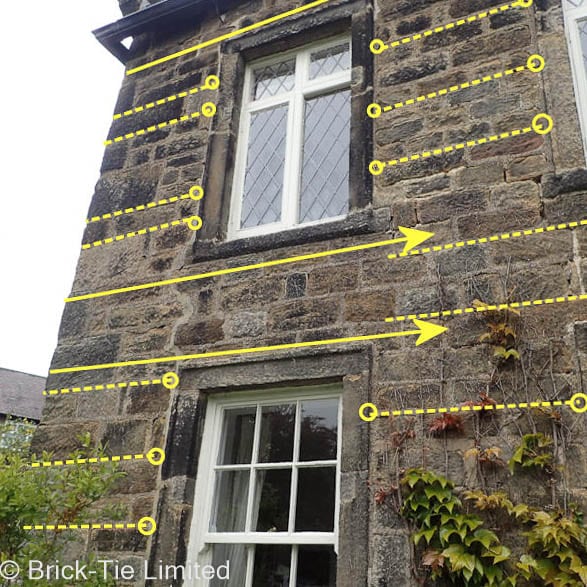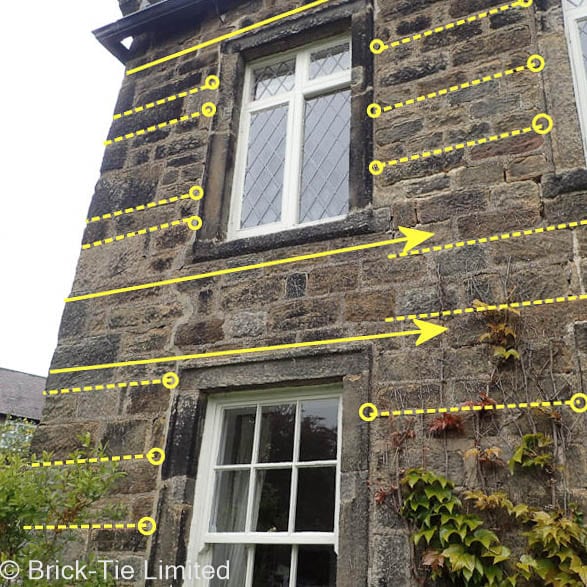 SockFix anchors in hole diameters between 25mm and 50mm were completed using non-percussive diamond core drilling. This vibration-free drilling method enabled hole depths of between 500mm and 2500mm, without causing further cracks or displacing any loose stones.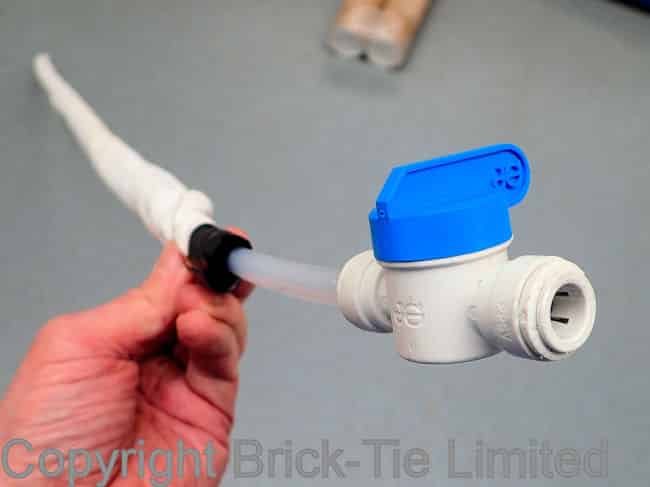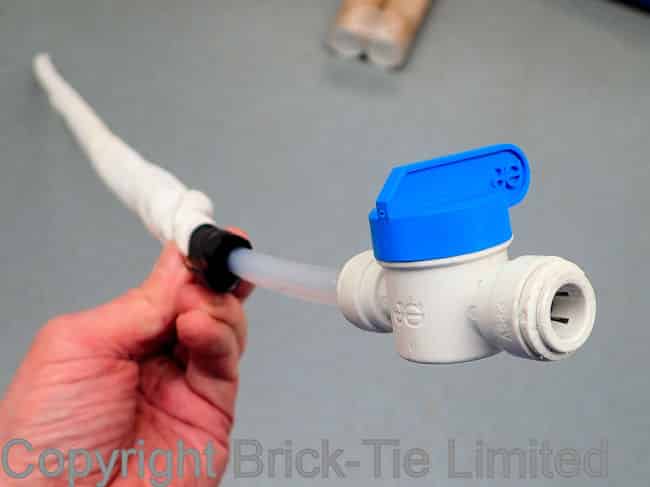 Stainless steel SockFix anchors, with internal body size of between M8 and M12 were inflated with Helifix SockFix grout. This slow, grouted expansion fully encapsulates the ties, producing an intimate and continuous interface between the tie body, grout, and masonry. The result is generation of remarkably low shear forces between the working tie and the masonry. This is despite the high strength of the ties themselves. In effect the benefit of the high strength anchor is spread more widely in the wall, there are no excessive point loads, which could rip-apart the existing substrate. Old masonry and mortars are always much softer than any wall tie or stitching anchor. Thus, the design must use the mortar and stone as the limiting structural factor. There is literally no point in offering something strong, if it relies upon high shear, and tensile strength in the masonry – that strength is absent.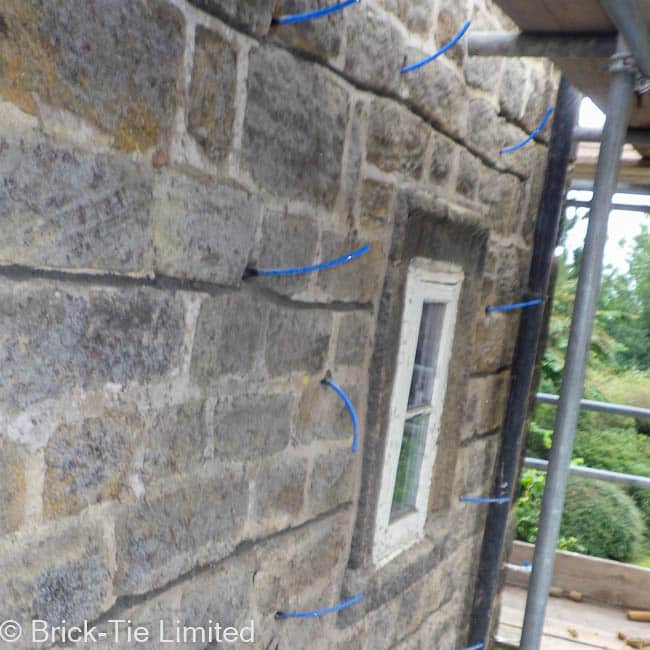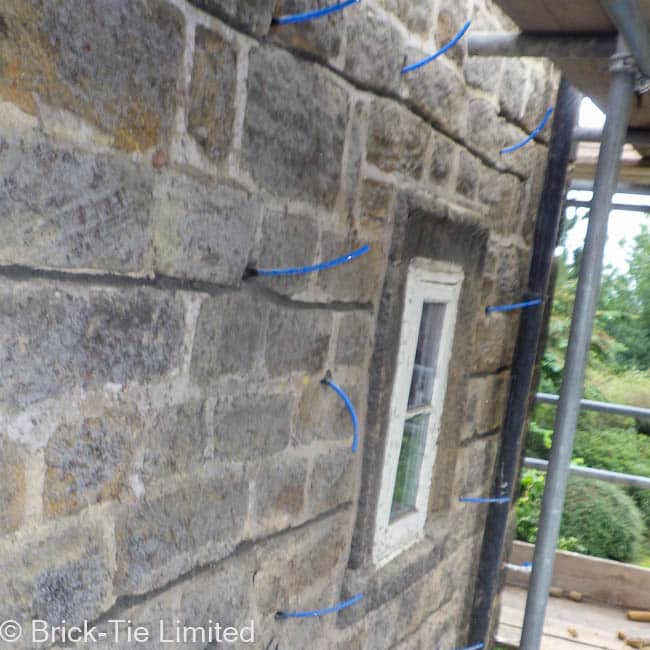 Our experienced team carefully chased out the bed-joints by hand (no grinding blades used here). We provided steel fixing straps in the roof, which, were connected to some of the SockFix ties in the gable apex. These ties incorporated extended threaded studs, which were attached to the roof members. Unlike all other methods (such as plug and screw or mechanical type), the SockFix system ensured that the roof fixings were secured to both inner leaf AND outer leaf. This unique system ensures load sharing through the full width of the wall, which reduces bearing stress, which would otherwise be concentrated in the inner leaf. Each SockFix is dual-action, providing simultaneous wall tie function across the two masonry skins, and whole-wall lateral restraint.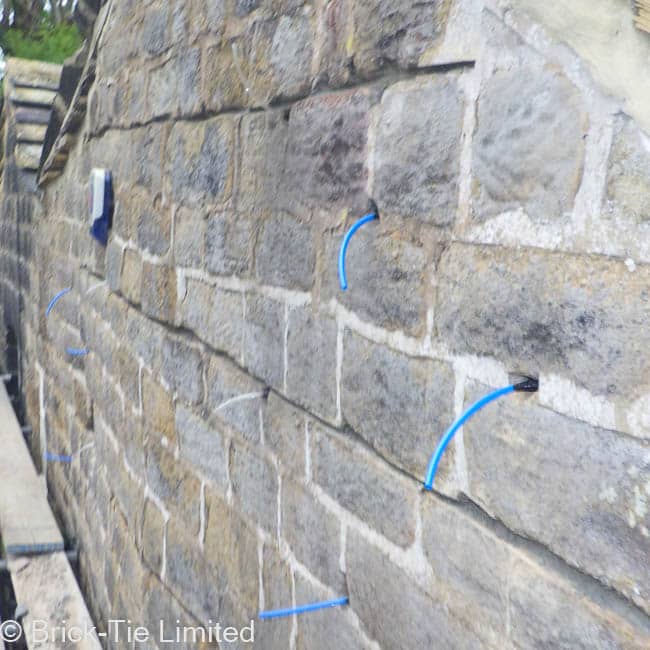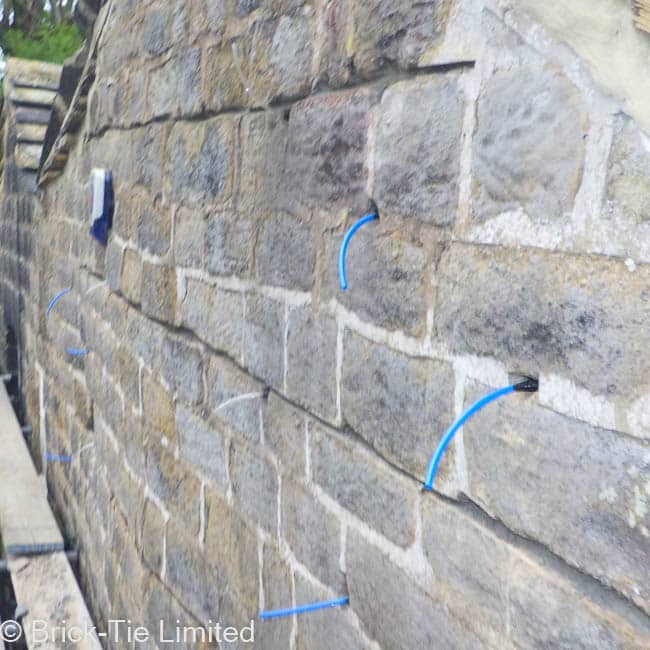 Severe stepped and vertical cracks at a corner position were cross-stitched using 2500mm M12 stainless steel Sockfix with full length grout socks. These are invisible now, hidden in the 50mm diameter holes, neatly disguised. SockFix M8 wall ties secured the entire gable and parts of the front wall.   The many meters of 6mm stainless steel HeliBars were recessed deeply in the bed-joints in readiness for final pointing. Brick-Tie coordinated with the client's own builder, who completed a full house natural lime re-point on completion.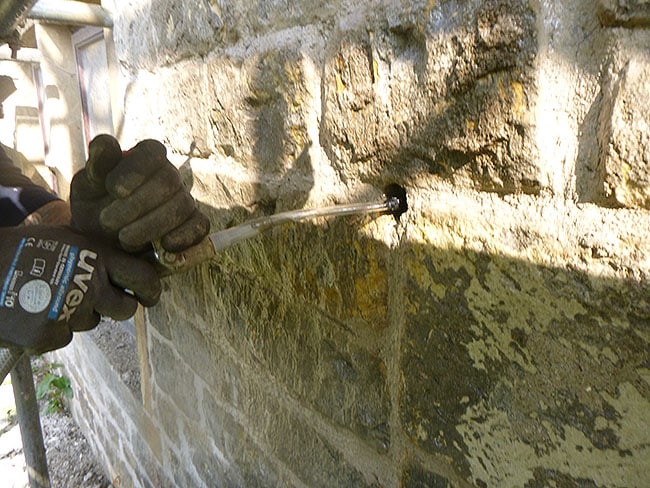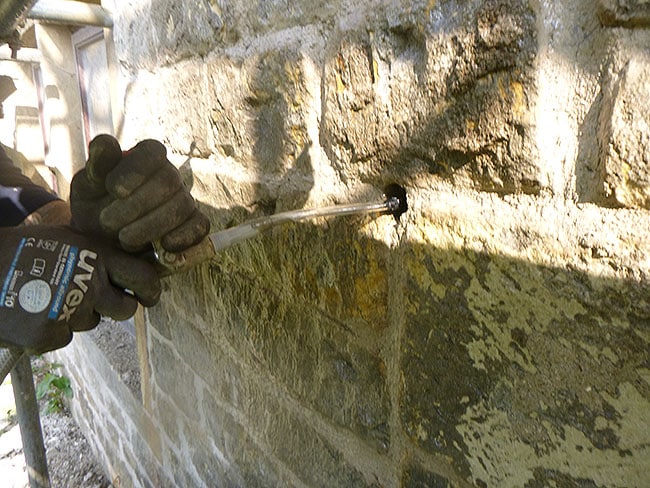 A traditional home preserved for the future.
Layton Ghyll is one of a long line of successful residential projects we have completed in the last few years. These are all very individual buildings, each presenting differing defects and requiring bespoke solutions. Together, these contribute to our team's success and experience, which is now over 35 years in the making!
Cracked walls or bulging masonry in any age of property can be repaired cost effectively by us. You can obtain free advice or book a survey via our contact page.
We asked Layton Ghyll's owner to sum up his experience with Brick-Tie and here is Mr Robert's unedited email:
"I have previously had some structural work done to an old property which was both specified and carried out to a poor standard. The current project was more involved and needed someone who knew what they were doing. Brick-Tie had some good reviews and specialised in the type of work that I needed so I thought I would try them. Their Helifix Engineer came to have a look at the property and did a detailed survey of the structure with regard to what work would be necessary, and more importantly what work was not needed. The start date was held without slippage and Brick-Tie liaised with our repointing company to schedule the work , so they could both share the scaffolding. The work was completed cleanly and to schedule, and the company were friendly and easy to deal with. Nothing was too much trouble for them. I cannot yet comment on the effectiveness and longevity of the repairs, however I know enough to tell that the survey and work was completed to a high standard."
Thank you, Martin!
Call for free advice or to book a survey now 0800 591541