City Square House Leeds – Unstable Party Wall Issue.
This 12-story mixed-use development will transform Leeds City Square . It is a £45m project by world leading development and investment company, McAleer and Rushe (MRP), and it will be a grand edition to the Leeds cityscape.  It's a state of the art structure, so why would the developer need a specialist wall tie company, like us?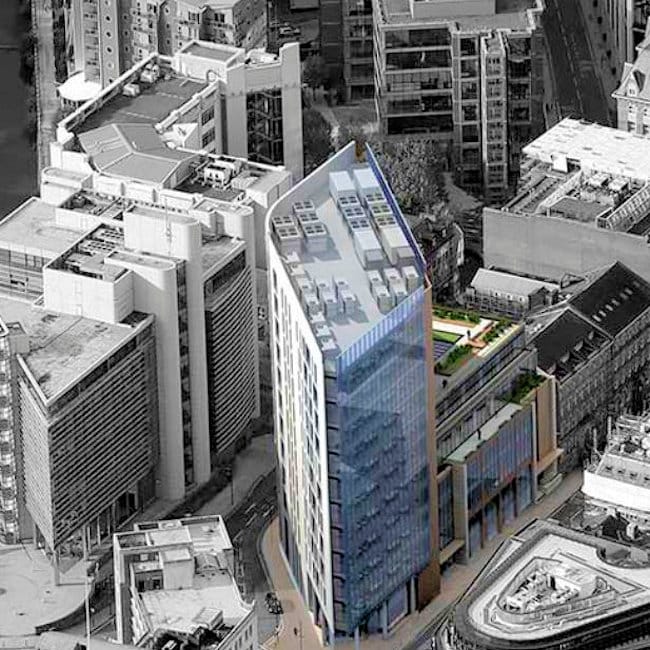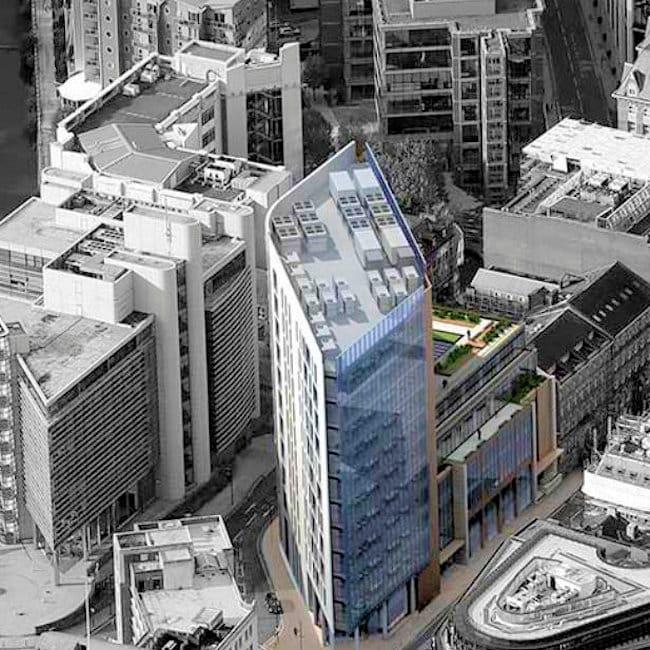 The truth is that the new development doesn't need any assistance from our team. Like many projects, this also sits cheek by jowl with existing old buildings. Party wall issues are a fact of life in virtually all city center developments.
It is the extensive groundwork, including large diameter piles which has driven some work our way. These operations are often a source of low frequency vibration. Therefore, our clients' structural engineers, worked with the adjacent owner's party wall surveyors to risk assess the project. They found a potential hazard related to two large Victorian gables, which border the site.  The walls feature multiple skins of brickwork, which lack effective ties. If left unaddressed, there was a real risk of the masonry becoming unstable.  In the worst case this could lead to 'unzipping' as work progressed. Before work could proceed, the walls needed precautionary strengthening .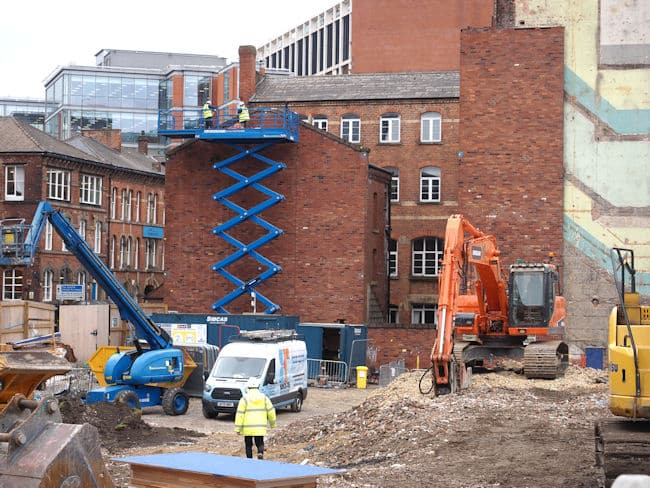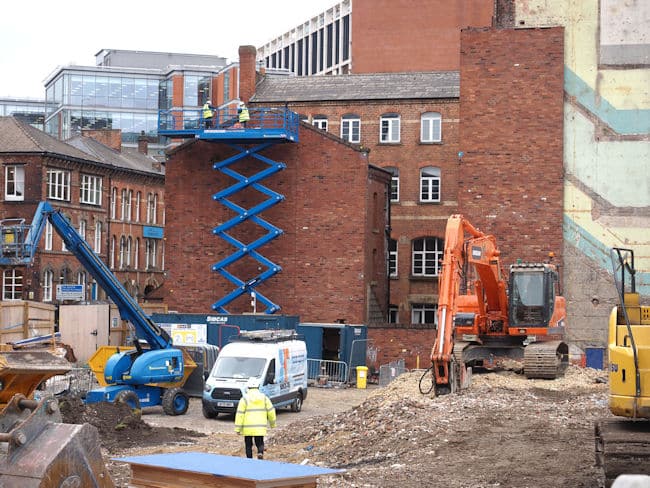 Brick-Tie design a safe and secure wall tie solution
M&R's project manager, Connor McMahon, was keen to find a local specialist masonry repair firm. Why did he call Brick-Tie? "We spoke to our own team and the engineers representing the neighboring buildings" he laughed "literally everyone we asked, recommended you guys"!
Keen to help out, Brick-Tie's surveyors completed a thorough invasive inspection and eventually specified the use of Helifix's remarkable SockFix and CemTie remedial system.  It was a team effort to provide a cost effective and robust repair package.
A detailed risk assessment and method statement ensured that the work could be  safely delivered. Our City and Guilds qualified wall tie installers used a combination of mobile elevated platforms and some tube and fit scaffold to complete the work. Only their IPAF training and certification enabled this access method. Control of falls from height, hand arm vibration and silica dust hazards received significant attention.
Helifix CemTies through multiple masonry units
As the brickwork was merely 'collar-bonded', lacking essential 'header' ties, some new ties were needed. However, with at least five separate layers of brick to drill through, and bond together, the proven methods were limited.  Using Helibond thixotropic grout  to secure each tie along through its 600mm length overcame the problem. This material easily bridges the small gaps between each brick-skin. CemTie installation takes skill and diligence, especially when excess vibrations will follow the installation – they must perform well. So a high safety factor was crucial. Therefore, we chose an installation density of 3.5 ties per square metre.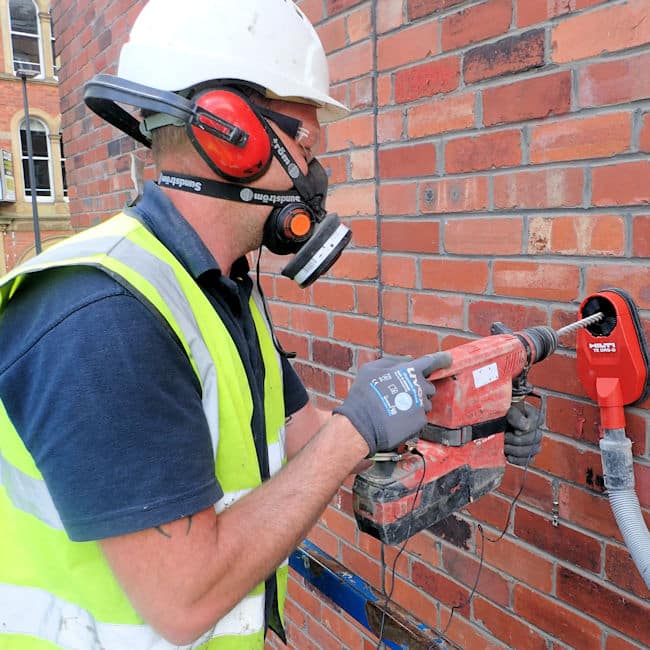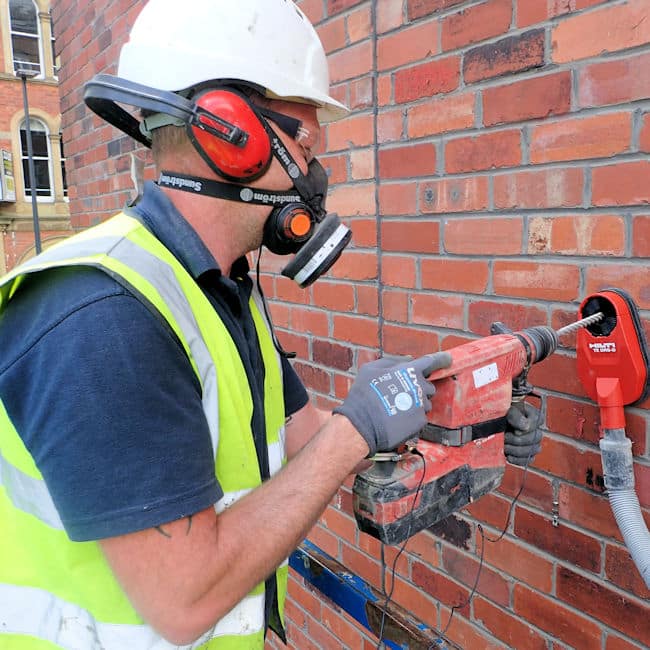 In total we installed over 800 8mm diameter CemTies  into the high gables overlooking the site.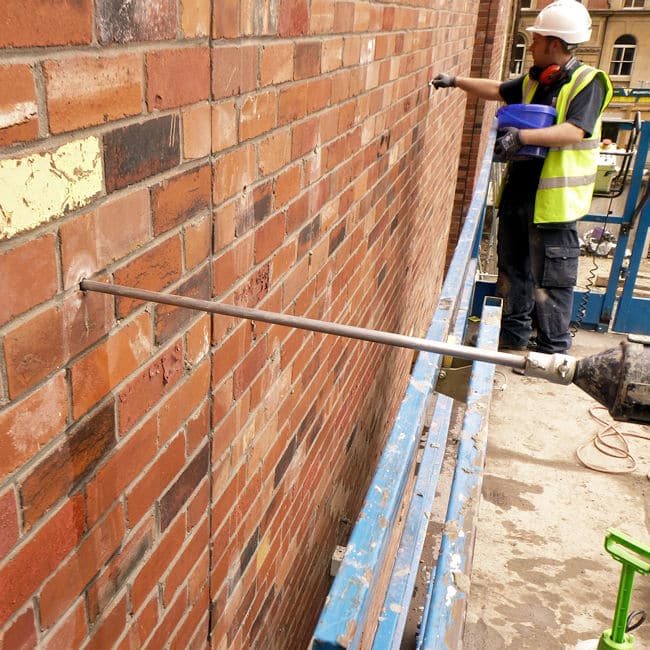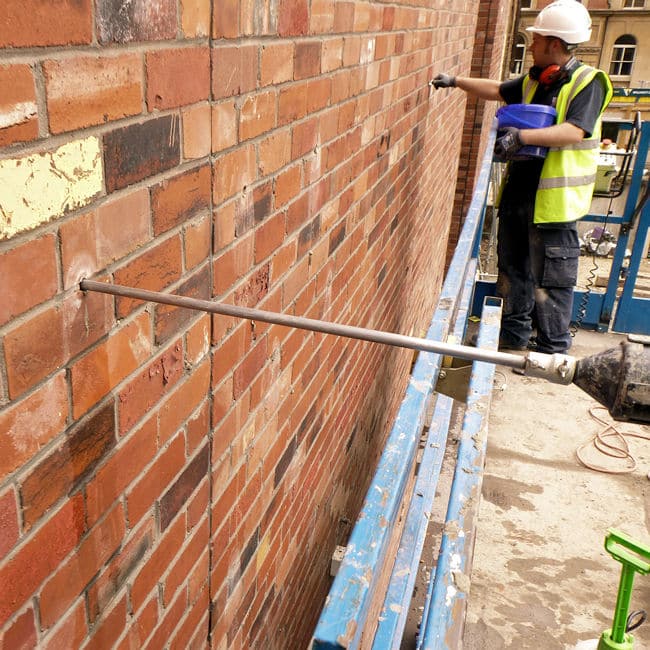 Proof testing was essential of course, so a robust test regime was followed and carefully recorded.  Brick-Tie demonstrated optimum performance using one of our calibrated Hydrajaws test rigs.
Helifix SockFix anchors used to overcome weak masonry substrate
A nearby Victorian façade, overlooking Wellington Street, was at risk of de-bonding at the junction with the adjoining 20m high gable. This junction was in a poor condition, with some loose brickwork and lots of voids in the masonry. As a result, the ties would need to be at least 1m long.  Drilling through an already weakened wall can cause excessive percussive vibration, which can loosen the brickwork. That is why we decided to use vibration free diamond core drilling instead. Then Brick-Tie technicians secured the facade to the gable using 1200mm long SockFix anchors.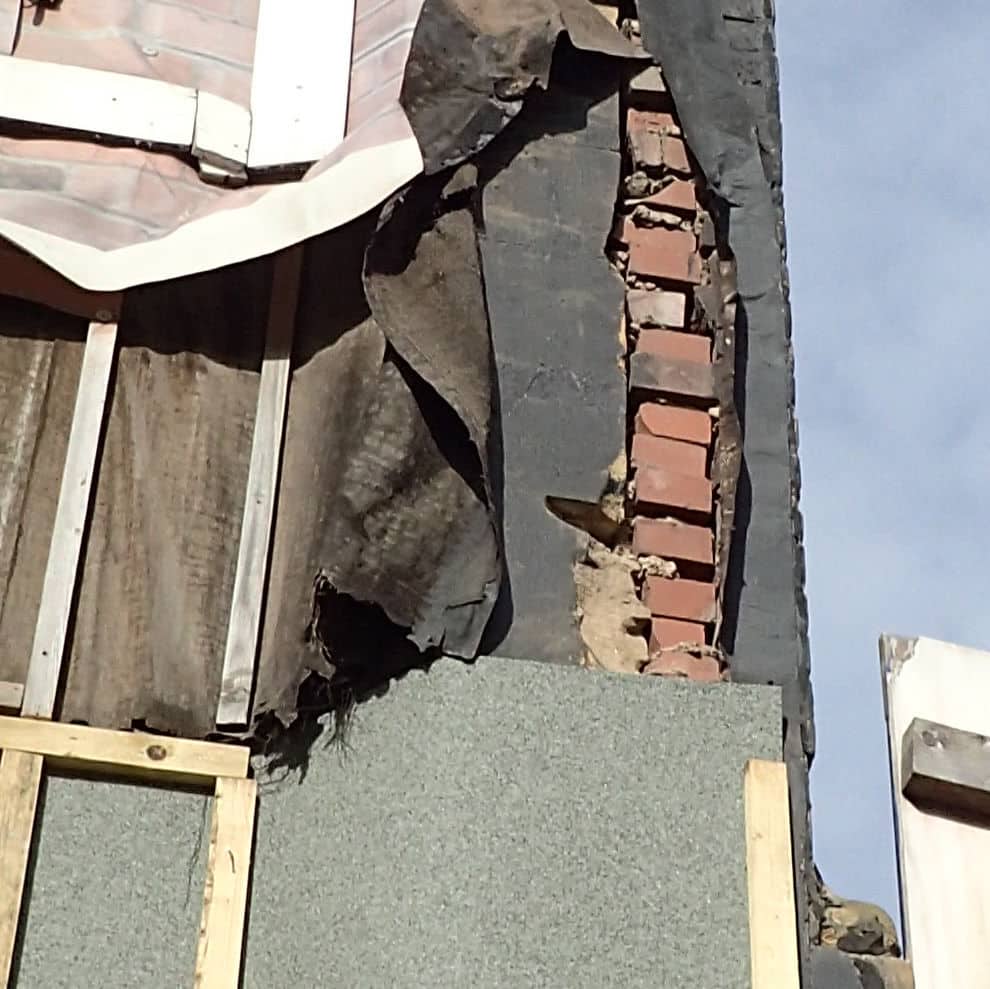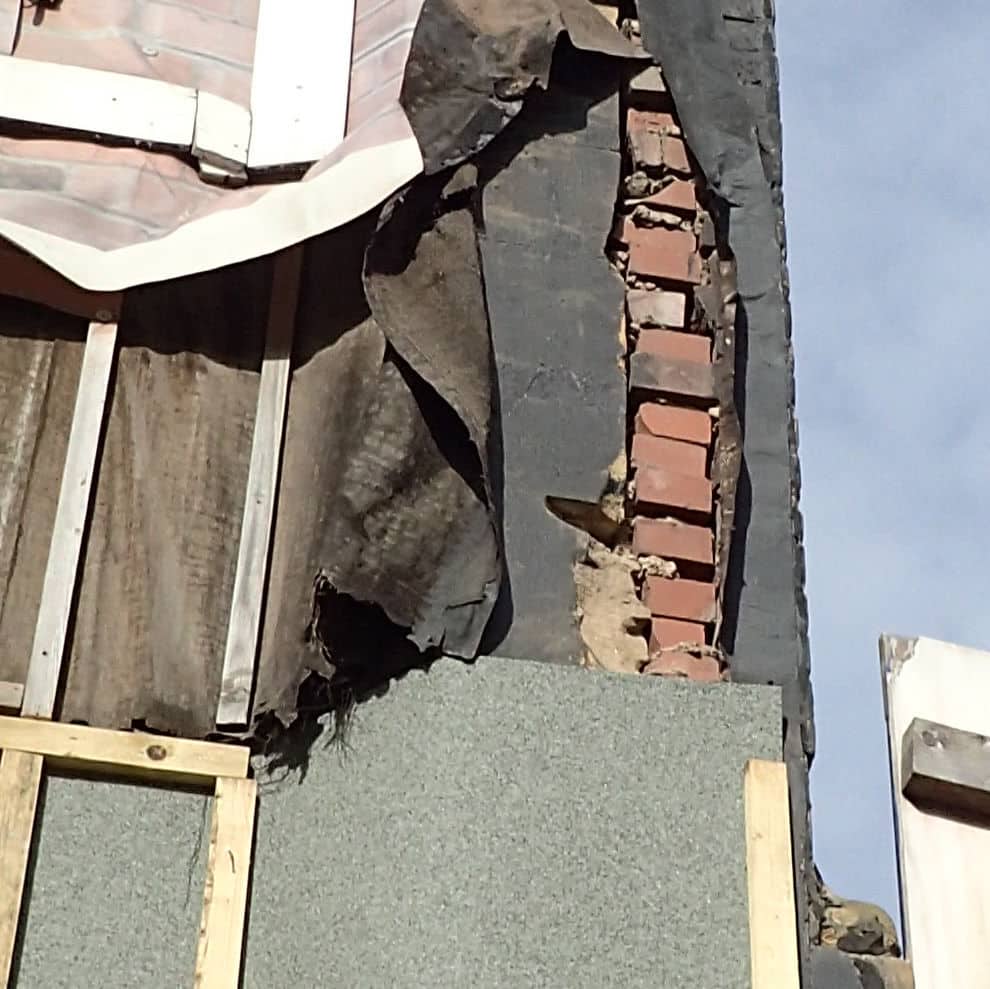 The SockFix system is a stainless-steel structural tie, encapsulated by a woven sock. Each anchor is bonded along its entire length via inflation with cementitious grout. The grout fills the sock from the remote end of each hole until it is full. Voids in the substrate are an insurmountable problem for most stitching anchors. Not so for SockFix, which deforms as it inflates with grout, engaging with the material around the voids, while maintaining full encapsulation of the stainless-steel SockFix body.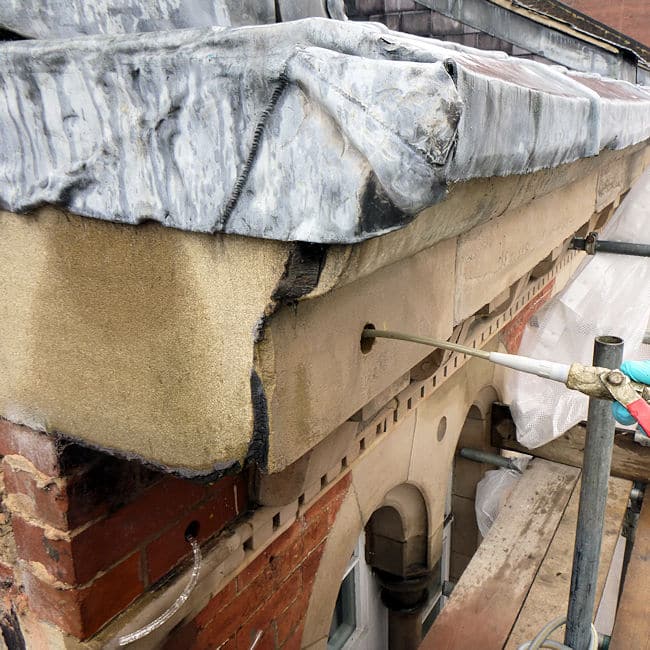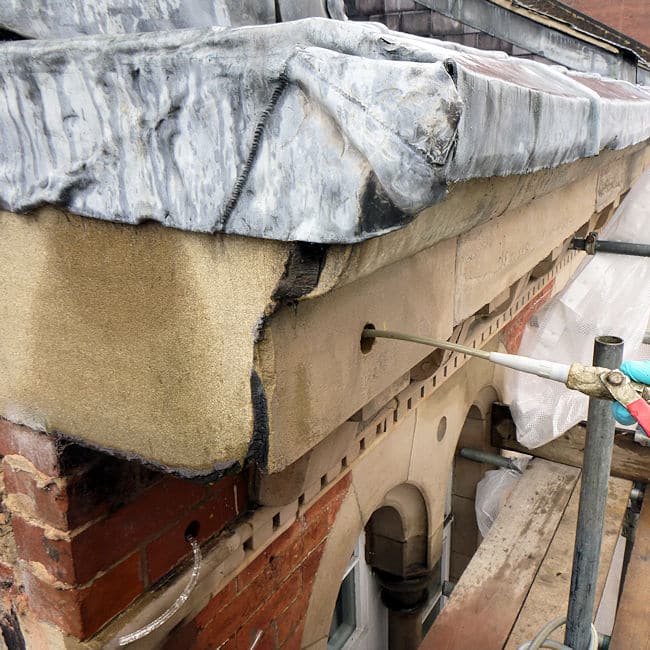 Just over 10% of the SockFix anchors were proof tested to 5kN (or half a ton each  in old money). The finished corner repair provides a combined proof tested restraint of 11kN per vertical linear metre of the junction.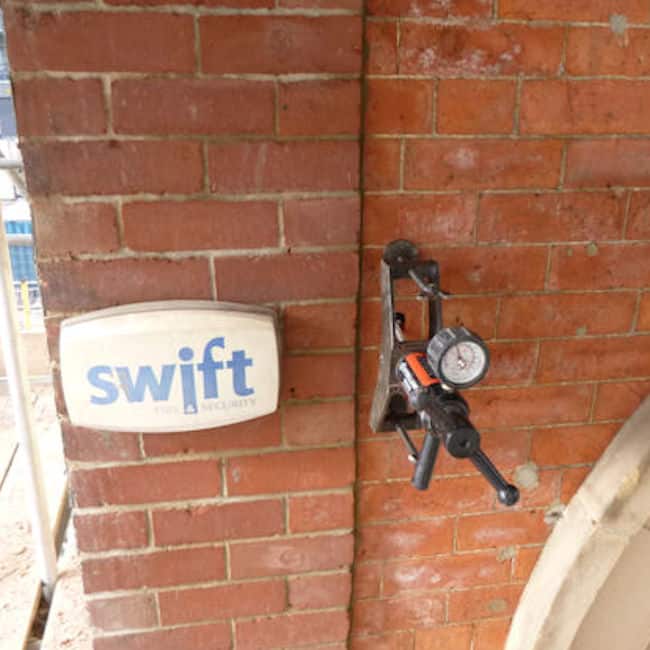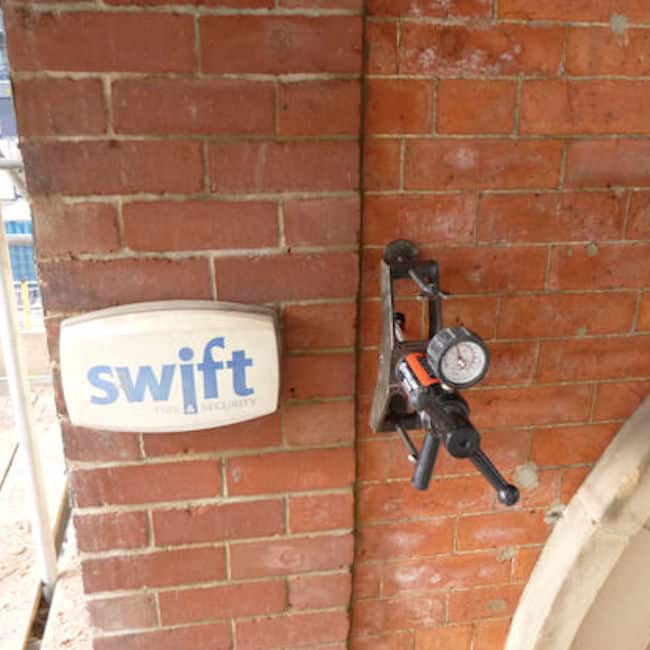 The 32mm diameter diamond drilled holes were disguised using 'Contour' lime-based colour-matched mortar. This left the fragile façade visually unchanged, other than now being safe and secure.
The work was completed on time, and within the client's budget. Piling is now at an advanced stage.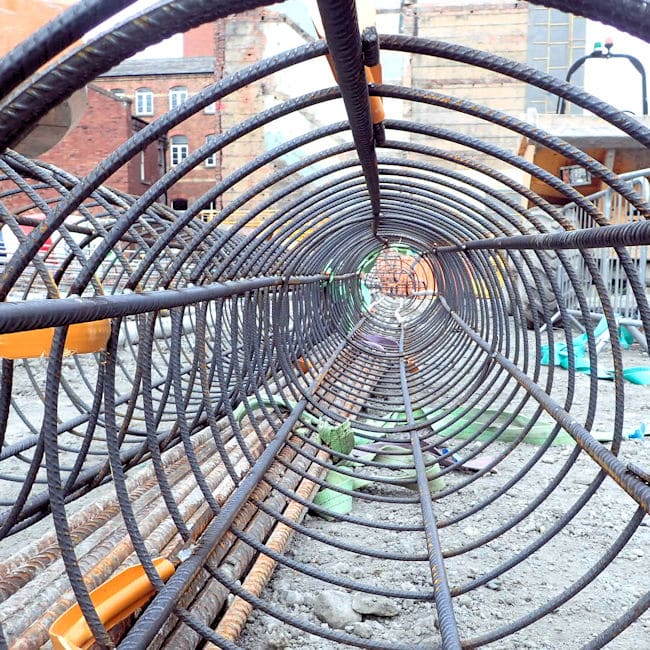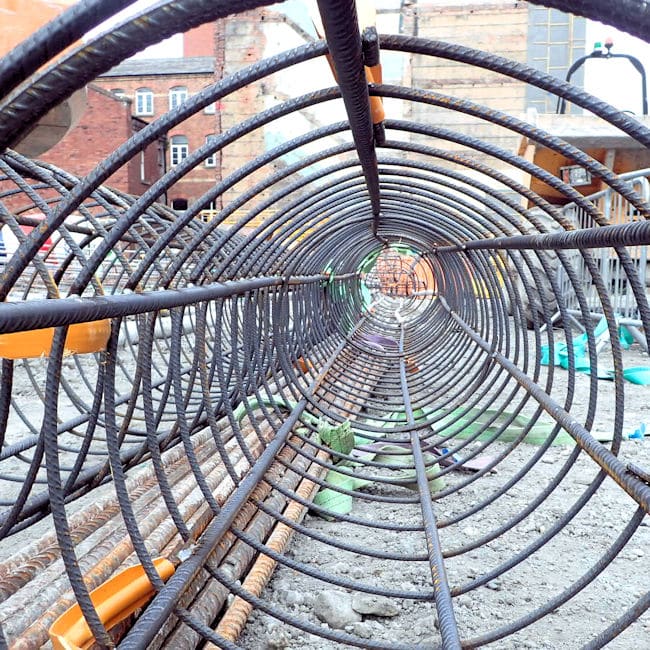 Our client's perspective on Brick-Tie.
Connor was asked how Brick-Tie performed for M&R on site, he was generous in praise "What a professional team Brick-Tie are, they delivered exactly what was needed, and in a safe and diligent manner too" he said, "They communicated well at all levels, keeping us informed along the way, ending with a detailed set of test results and comprehensive health and safety data for our files – top notch".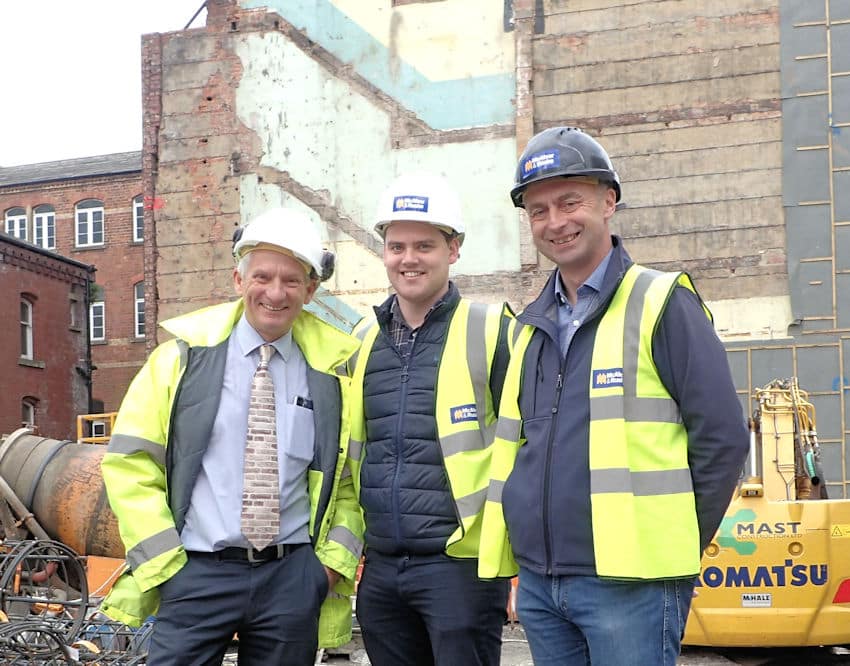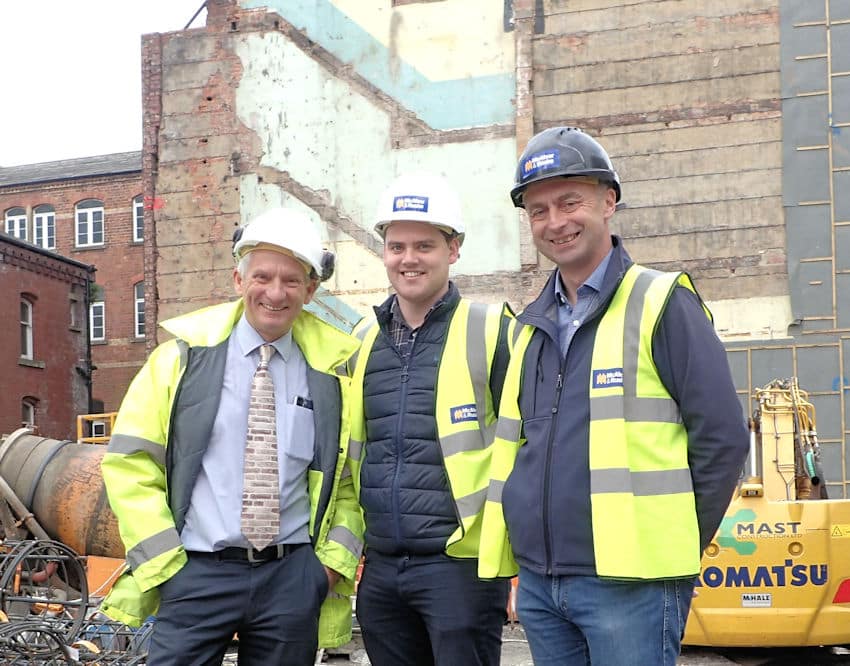 Brick-Tie boss Bryan Hindle is very satisfied with the outcome too "M&R's site manager Alli Lindsay and his team, were a delight to deal with, I knew my lads were in good hands, on site", and he added "We'll be watching the development as it grows over the coming years, with some pride, that we played a small but crucial part, in enabling its success".
Brick-Tie's thanks go to M&R's site team as well as project engineers; Ian Black Consulting, party wall structural engineers JPG Group, and party wall advisors Avison Young.  Thanks too, to Neil Crozier of  Helifix , who supplied all the specialist fixings, and who remain Brick-Tie's number one supplier of remedial solutions.
On completion of the work, Bryan was happy to supply some Yorkshire hospitality to M&R's site team; a dozen of Starkey's butchers award winning pork pies made the lads on site feel especially welcome to Leeds. These were still warm from the oven – lovely.
We look forward to working with you all again soon. Why not contact us for a wall tie survey or structural repair inspection?