That's right, we are PCA contractor of the year.
IT'S OFFICIAL –  Yorkshire's favorite structural repair company are now the UK's best! The PCA technical team voted Brick-Tie as this years PCA contractor of the year. This is because we scored 98% in the quality and service audit, outscoring a host of other contractors from across the nation – we are so pleased and proud.
Katrina Jackson collected the award at this years Property Care Association awards ceremony, "I'm so proud of the entire team, those heroes, who worked so hard to get to this point" said Kat.
Obviously, quality and technical skills are measured, and assessed in an audit, however the PCA also praised our great employee engagement in customer service, and our dedication to  the health and safety of our team. As we are Employee owned, the health and well-being of all our employees is paramount. Happy and well-treated employees deliver better service to customers.
A detailed site visit.
One of our commercial structural repair projects was visited during wall tie and Helifix repairs. The auditor was blown-away by the levels of care the team demonstrated, in delivering a safe, well organised and innovative repair. The job involved Helifix crack-stitching, retro-fit movement joints, water-repellent masonry treatment, and Helifix remedial wall ties to a cracked and de-stabilised office building in Leeds.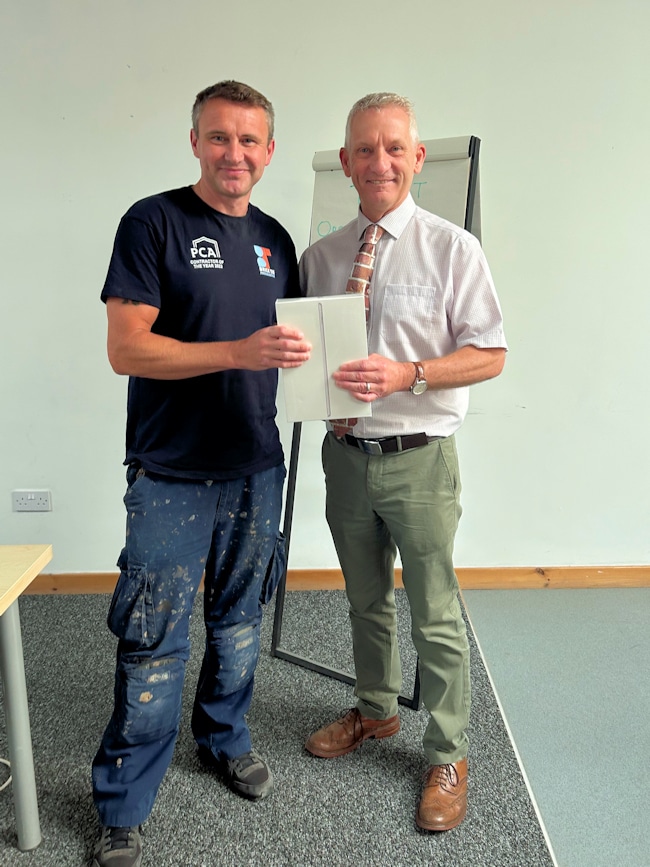 This site was supervised by our longest serving technician, Darren Roberts. Therefore, an Apple iPad, which award sponsor Safeguard Europe donated to us, was in turn presented to Darren, in recognition of the part he played in impressing the auditors on 'his' site (and for all the times he has excelled over the last 25 years).
So, do these awards mean anything? Are they just a back-slapping excessive for all involved? Well, everyone likes a bash, but behind the award are years of hard work by everyone in Brick-Tie. The audit checks the fine details to make sure we work well, work safe, and deliver good service – so the answer is Yes, the award matters and yes, some back-slapping is justified. This is the second time we've won PCA Contractor of the year in only five attempts, so not bad, considering the hundreds of PCA members taking part.
Put Brick-Tie's award winning service to the test! We can survey for structural cracking, wall tie corrosion and lack of lateral restraint too. We work across Yorkshire – call us via our contact page here.
0800 591541 – 0113 2328433