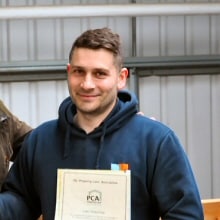 Luke joined the team in 2015. He is a time-served plasterer and has great trowel skills, able to leave walls and ceilings in the best possible condition for decoration.
Since joining the team he has been learning damp proofing and timber preservation skills fast. In fact he has just sat and passed his Property Care Association remedial technician exam (PCAQT). He has  Construction Skills Certification Scheme card (CSCS) and is quickly obtaining the many additional health and safety skills he needs to be competent under our heath and safety management plans.
We apply various types of plasters and renders, most of which need special care in mixing and application. In addition we also apply a wide variety of damp proof membranes and even carry out concrete repairs – Luke has taken on these new skills with great enthusiasm and everyone in the team has remarked on how keen, diligent and helpful he is.
Luke is a South Yorkshire lad, though he now lives with his partner Claire, in Wakefield. He has three children; two boys and a girl, so he's a very busy man.
Luke enjoys working out in his local gym and also riding his treasured KTM600 motocross bike. He's a practical guy and loves tinkering about with cars and bikes, making them work well again.  Asked about his role he says "This is the best company I've worked for in the construction industry- I love learning new things, which is what I'm doing and, everyone here is sound."