Customer Service and Administrator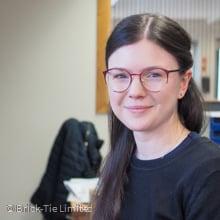 Josie joined Brick-Tie in 2019 and has proven to be an outstanding member of our team. She really is at the sharp end of our customer contact, with joint responsibility for organising our surveying team. Clients who have booked wall tie corrosion surveys, damp and timber surveys or crack inspections often send us great positive feedback about how helpful Josie is.
This is a crucial role because often, our clients are in the throws of buying or selling property and as anyone will confirm, that can be a stressful time. Josie gives our clients the reassurance and confidence that things will run smoothly, easing any concerns they may have.
On the office administration side Josie is skilled in use of the Microsoft Office Suite. She helps to collate our health and safety data, as well as the vast amount of data we process for wall tie guarantees, insurance backed guarantees and customer feedback.
Josie lives in Sherburn in elmet near Leeds, with her husband Charlie.  She has a dog called Kira who takes up most of the couples time.  Weekends are spent going for walks with friends, whenever possible.