This week we were training apprentices on sites, surveys and in our office
It was a pleasure to welcome a special guests this week – Danny from Shaw Preservation in Epsom, Surrey. Danny is an apprentice with this old and well established PCA member company. Shaw Preservation Director Jacki Shaw wanted to expose Danny to as wide an experience as possible. So, he spent three days with us here in Yorkshire. Danny spent time with our Surveyor Paul Glover CSRT. Damp and timber surveys and wall tie inspections were included. Two days surveying with Paul and a day in the damp diagnosis lab with our MD Bryan Hindle. He was also joined by one of our own PCA apprentices Adam Orton.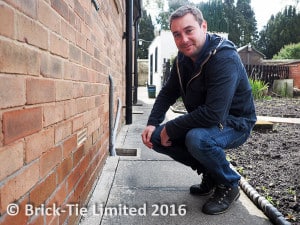 The PCA apprenticeship scheme is in full swing and as members we are keen to get right behind it
Danny used a selection of surveying equipment with Paul, in a variety of building types. A Flir MR77 combined moisture meter and hygrometer was used, as was an Anemometer and of course a trusty torch, screwdriver and tools to lift floorboards. Paul is an experienced remedial technicians as well as a CSRT qualified surveyor. He was able to really get Danny into the basic fundamentals of how we carry out damp and timber surveying for homebuyers. Our houses differ a little from those in the South, but the fundamental methodology is the same.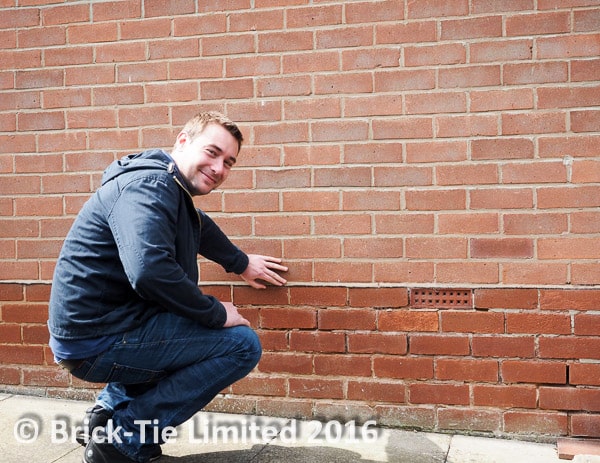 The important role of mechanical ventilation was covered too and he had a chance to use one of our calibrated anemometers to test an intermittent extract fan for performance. He used a moisture meter in 'pin' mode both for qualitative measurement on masonry and quantitative measurement on timber floors.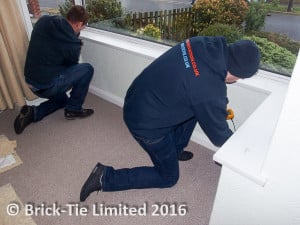 He also had the chance to help out on a wall tie corrosion survey. This was a house with cavity wall insulation, so Paul demonstrated how wall ties can be inspected using a boroscope in these situations. Danny hopes to use the new hints and tips on wall tie inspection in Surrey.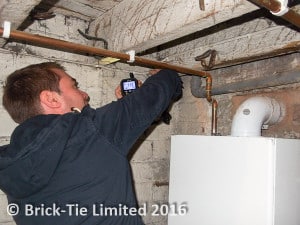 On day three Danny was introduced to Bryan at our Sherburn in Elmet office. Bryan spent the morning taking Paul through his surveying methodology with the basic mantra's Bryan has perfected overt 40 years in the industry. A few choice books were extracted from Bryan's technical library and Danny is to buy these for revision and reference too.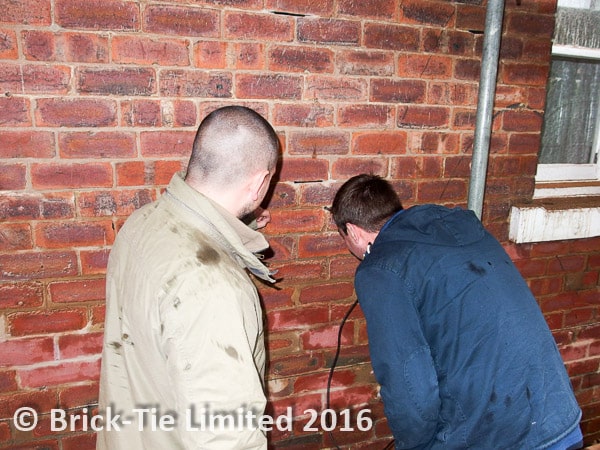 Some of Bryan's videos from YouTube were watched and the finer points talked through. The essential technical posts from the PreservationExpert blog were looked at too. Some handy equipment was demonstrated and the model numbers given to Danny so he can obtain these himself.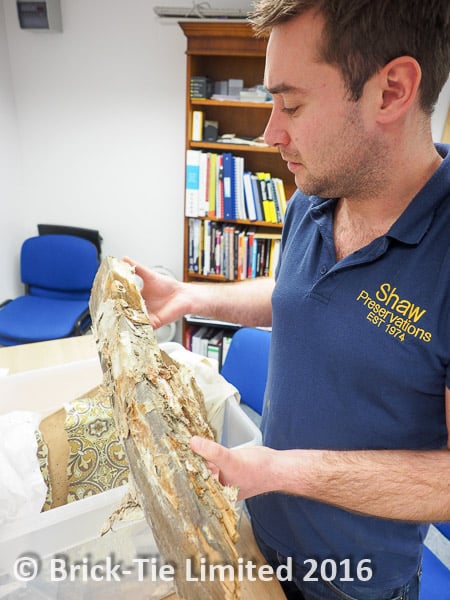 Bryan took Paul to a local unoccupied house where a trial survey of the exterior was carried out. Danny picked-up lots of hints and tips on the things to look out for – what is significant and what isn't. Report writing and the use of plans and photographs were talked through too. The writing and presentation of facts and opinions were explored. Finally, Bryan gave Danny an introduction to Gravimetric moisture analysis and salts testing masonry and plaster samples.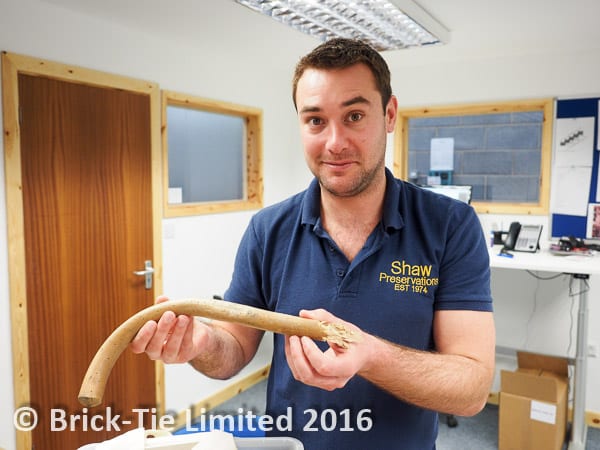 The Property Care Association apprenticeship scheme is the only one of its kind in the UK. It enables students to get a firm foot on the ladder in the preservation industry and an opportunity to build a long and successful career in damp proofing, timber infestations and associated work. Brick-Tie Limited are delighted to support the scheme and any students taking part in it. We don't care whether or not they are our own. Good practice, skills and experience should be propagated as much as possible, for the benefit of consumers and students too. We commend the mentoring of as many apprentices as possible.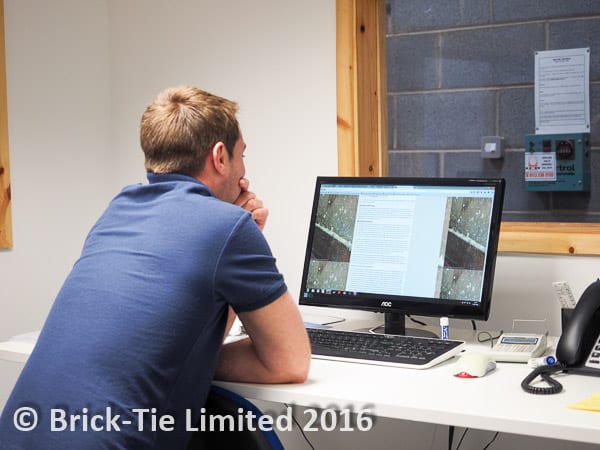 Our MD was particularly delighted to pass on skills to Danny "When they asked me it was a no brainer really. Shaw Preservation are a very well established independent firm; a quality outfit. In taking on an apprentice they are investing in the industry, which has given me so much. They deserve assistance and so does Danny – it was a real pleasure to have him here with us in Yorkshire. I wish him all the best in the future" said Bryan.
For further information on the PCA apprenticeship please visit the PCA Apprentice page. If you are a PCA apprentice working for a PCA member company,  you are invited to shadow a qualified CSRT surveyor, subject to paying your own travel and other expenses as Danny's employers did. This only applies to registered apprentices on the scheme.