Expert Wall Tie Surveys and Structural Repair Skills
This week we hosted another of our CPD (Continuing Professional Development) events. Thorpe Park Hotel, Leeds,  was the venue for a full morning of training for Yorkshire's built environment professionals. Our presentations are designed to showcase expert wall tie surveys and structural repairs.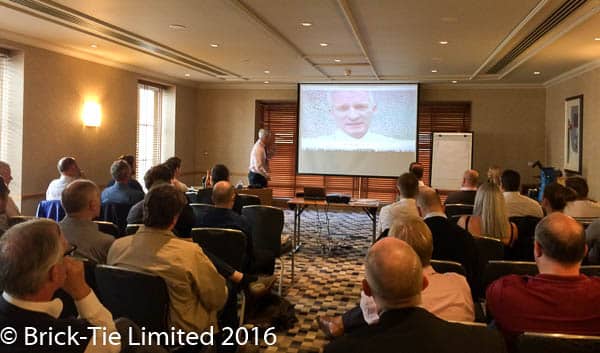 Specialist Structural repairs and wall tie corrosion were on the agenda. This stuff can be technical and as 'dry as dust' if not taught well. However, our MD Bryan Hindle is so enthusiastic, he always delivers a lively and thought provoking show. As usual, commercial and residential surveyors from across the Yorkshire travelled to Leeds for the event
Text books and slides are one thing, but with Bryan, delegates can count on receiving relevant and specific information, straight from the coal face of structural repairs. He included a mix of old and new buildings with residential and commercial structures included too; there was something for everyone to relate to.
The menace, which is corrosion of wire wall ties in post war housing is a growing threat. Houses built in the 1960's, through to the mid-eighties are at very high risk of wall tie corrosion. Bryan used photographs of rusty wire ties and some collapsed cavity walls to illustrate this point.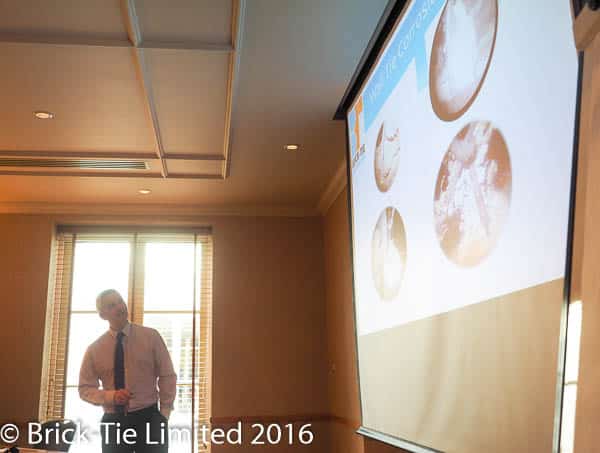 Wall Tie Failure in Timber Frame Housing
Moving to more specialised niche problems, we talked about wall tie failure in older timber frame housing . Bryan used a video shot on site to show surveyors what to look out for. Those surveyors who have lots of old 'spooner' type dwellings on their patch, were particularly interested in the movie. Bryan was able to take the whole 'room' with him, through the boroscope. They could see rusty 'cranked' wall ties and poor wall tie embedment, as if they'd been on site with us.
The flimsy nature of some of the older timber frames means that remedial wall tie replacement can be problematic on these projects. Moreover, lateral restraint of timber framed gable walls is often poor too. When this lack of restraint is combined with wall tie corrosion, timber frame houses can be very susceptible to wall tie failure and collapse, particularly of gable walls. The in-depth information Bryan shared is all about educating surveyors and helping them produce better  expert wall tie surveys.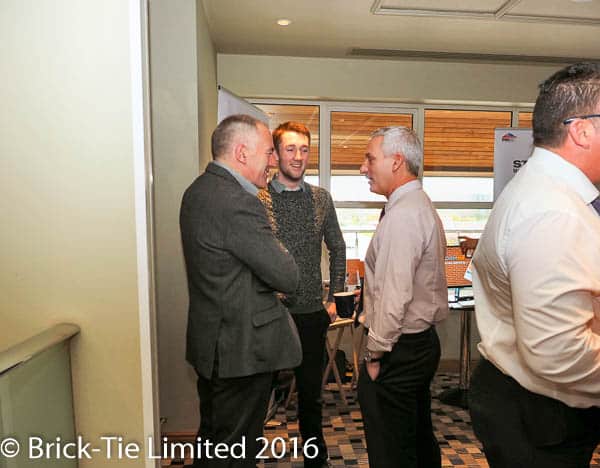 Structural Repairs
The presentation included a discussion on tension cracking in masonry. This is often due to thermal movements. Bryan explained that specialist contractors need to have a flexible approach, which can accommodate different materials and client demands. Bryan used a recent case study, taken from a commercial wall tie and masonry repair project as an example. The study highlighted how innovation in masonry repairs can save both time and money. The busy Cross gates shopping centre in the case study, is only 1 mile from the venue. It is featured here.
Retro-fitting of expansion joints in buildings keeps our teams busy and sadly, it is a common requirement. There were one or two gasps from the floor, when Bryan projected images of existing expansion joints on modern buildings. The reason was that inexplicably the joints, when opened up, were found to be filled with mortar, plasterboards or wood! Therefore it was no surprise that the buildings they were in, had lots of cracking.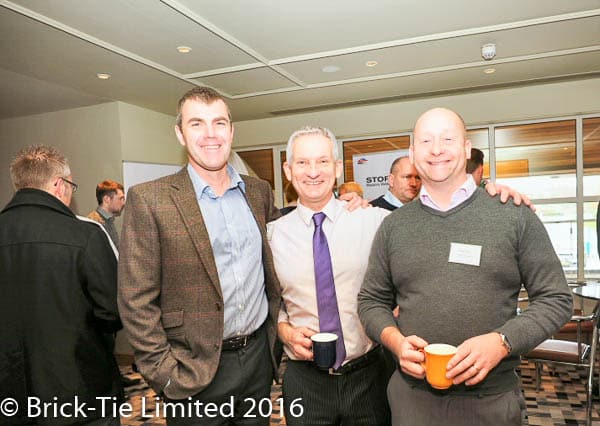 Site Supervision on Wall Tie Replacement and Structural Repair Projects
This brought discussion around to site supervision and testing; an area Bryan is very keen on. Bryan explained "Increasingly, we're called in to look at cracking masonry, when buildings are only a few years old. "You can trace almost every issue we find, back to short-cuts on site, which should have been picked up, by a well established supervision and a testing regime". He outlined our testing and supervision protocols, which ensure that when our technicians leave site, the works are as specified – or better.
Brick-Tie has been increasingly involved in work to secure poorly detailed and leaning earth retaining walls. One of our specialist solutions to failing retaining walls is the DuckBill ground anchor system.  Stainless steel DuckBill anchors were on display. Those engineers present were able to get hands-on experience of how DuckBill's work. After the demonstration and an explanation of how they are installed and perform, a healthy discourse followed. We discussed the pros and cons of this method. Bryan explained how sometimes it is necessary to combine ground anchor lateral restraint with masonry beaming and strengthening. The spreading of load and reduction of induced bearing stresses; using hybrid systems, is one of our specialities.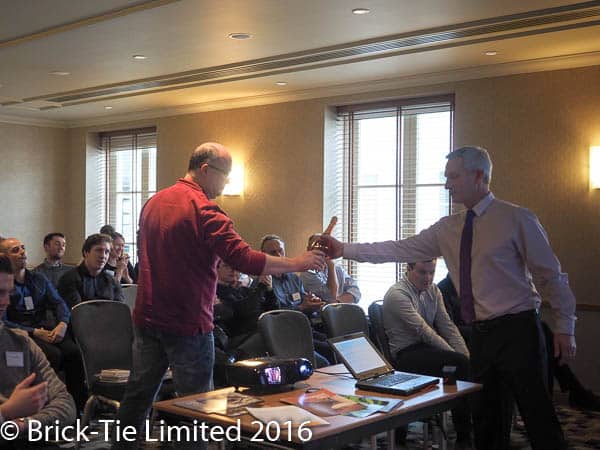 Traditional materials with high-tech specialist knowledge
The session closed at lunchtime, with a talk on the various ways we can repair very old stone walls. Bryan mentioned gravity grouting using lime mortars, which we've used on listed and heritage buildings. These buildings are bonded in a lime mortar and of course lime is vapour permeable and much more structurally forgiving than cement. Naturally, we favour using these traditional materials, where they are appropriate because cement can cause harm.
Masonry repairs always involve common sense and good old fashioned trade skills, which are crucial. Nevertheless Brick-Tie have blended these traditional skills, with state of the art equipment and materials. Consequently, we can provide unrivalled insight into the restoration and stabilisation of masonry. Hence, many surveyors and structural engineers turn to us for advice, when they need an innovative and guaranteed solution.
As an example, delegates watched a site video of a Cintec grouted sock anchor being inflated in-situ as part of a repair of a partially collapsed stone wall. The advantages of sock encapsulated anchors were outlined, as they apply to traditional buildings. This was especially relevant, because the subject building was over 100 years old; the partially collapsed walls were built with lime mortar. Samples of Cintec and Helifix SockFix ties were handed out for close inspection.
It was great to see so many structural engineers, surveyors and old professional friends on the day. They took time out from their day jobs to learn more skills and hone existing ones. This is something they should be proud of and it bodes well for their firms and customers.
Some of the them are mentioned below. If you need professional services it's good to know these guys keep themselves up to date.