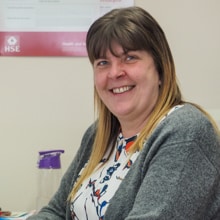 Welcome to our newest team member – Lindsay Royston.
Joining us in 2021 to fill a new and exciting role in the company, Lindsay is our Compliance Manager, with initial responsibility for Health and Safety compliance. Lindsey's background in Facilities management and health and safety spans 15 years. She will strengthen our commitment to make Brick-Tie not only the best, but also the safest place for wall tie and remedial technicians to work.
In many small businesses everyone is always busy juggling several roles; unavoidable in a micro-business,  but not acceptable for long-term sustainability, especially in construction, where safety hazards are commonplace. Working with our MD Bryan Hindle, it is Lindsay's goal to develop a best practice health and safety management system and bring it into being, right from office to site and beyond.
Lindsay has achieved her NEBOSH Level 3 certificate  in Construction Safety Management & is currently studying with the IWFM towards a Diploma in Facilities Management.  She is hoping to further upskill in Health & Safety management, to help Brick-tie not only fulfil legal obligations, but to go over & above compliance; keeping the Brick-tie Family safe.
Lindsay lives in South Yorkshire with her fiancé, Pete & their two dogs Alfie & Benji.  In her spare time, when not studying, she likes to spend time with family at her holiday chalet (when lockdown restrictions are eased!) & walking her two dogs.