Which? Trusted Trader
We are delighted to announce that Brick-Tie are now accredited under the Which? trusted trader scheme. Which Magazine are the UK's leading consumer protection organisation and having their seal of approval makes us all very proud.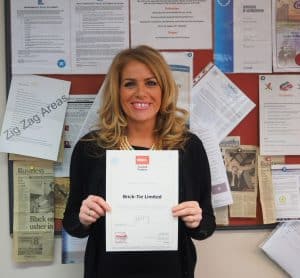 The Which logo can only be displayed after Which? themselves have carried out a strict and detailed audit. This includes the terms of contract we ask clients to agree to; our complaints procedures; insurance and legal compliance, and of course they follow up random chosen customers to make sure they are happy.
This means that potential customers can be reassured that we are a pre-qualifed and 'trusted' company to deal with. These days that means a lot, because anyone can build a web site claiming they are honest and trustworthy. The media is full of reports of consumers being taken in by false promises from good looking but 'dodgy' firms on the internet. The Which trusted trader scheme aims to fix that.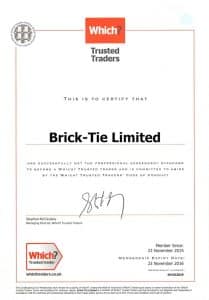 Of course, Which cannot check our technical expertise – their knowledge is consumer law and protection, not structural repairs and wall tie work. This is why the Which trusted trader log sits with our Wall Tie installers Federation membership and our Property Care Association membership. These organisations are the Uk's experts on wall tie replacements and structural repair. So with Which and PCA, clients can take comfort, knowing we are suitable for supplying their wall tie installation, structural repairs and masonry repair needs.