Wall Tie Technician, Remedial Technician and Plasterer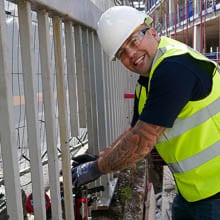 If you are having your wall ties replaced, some cracks repaired or any internal structural work done by Brick-Tie, you may meet Gareth on the project. 
Gareth is skilled in all of these areas and is an accomplished plasterer too. He joined us the year before the pandemic arrived, so he's seen Brick-Tie in good times and in a time of uncertainty. 
Asked what he enjoys about working for Brick-Tie Gareth said "I like the older building we work on the best; you know, the listed ones? When you arrive and there are cracks and bulged walls and you leave, knowing that the house is restored well, and the client is chuffed – it's a buzz that I've achieved something amazing". 
For Gareth, it's not all about work though; "The crack with the team is ace, not like anywhere I've worked before. I always feel supported by those around me."
When Gareth was sixteen he started training as a plasterer, going on to achieve his level three City and Guilds advanced craft certificate. 
After a long stint in self employment he was tempted to Brick-Tie by the glowing references from some of his mates, who already work here. With a wife and three children at home he was keen to develop his career and was in search of more stability too. Brick-Tie, with an established name and secure business, is ideal.
In his spare time he loves Rugby and is 'Rhinos' through and through. Wife Donna and Sons Alfie and Guy, together with daughter Honey, keep him happy and busy at the weekend and of course he watches the Rhinos, when allowed.